Day 1
This trip started at Battery Rock and ended at Devils Backbone State Park. It will be picture heavy and separated day to day.
I decided to Start at Battery Rock because I hadn't been through there for quite a while. I thought it might change my luck, and this trip was going to be about enjoying the forest in the prettiest time of the year. I wasn't out to set any records. My equipment is good used or reconditioned for the most part.
My requirements are number one light weight and number two reasonable cost. I have a base weight just over 20 lbs and with the current drought limiting water to filter, I was carrying more water than normal, about 6 lbs or about 2.5L. That really made the difference believe it or not. I just can't carry a lot of weight without my back and shoulders hurting by the end of the day.
Let's get to the hike. My wife dropped me off at the Battery Rock trailhead and kissed me good luck! We planned on her picking me up the 6th day and she had a hotel booked for a night with a shower and a real bed, (and real food).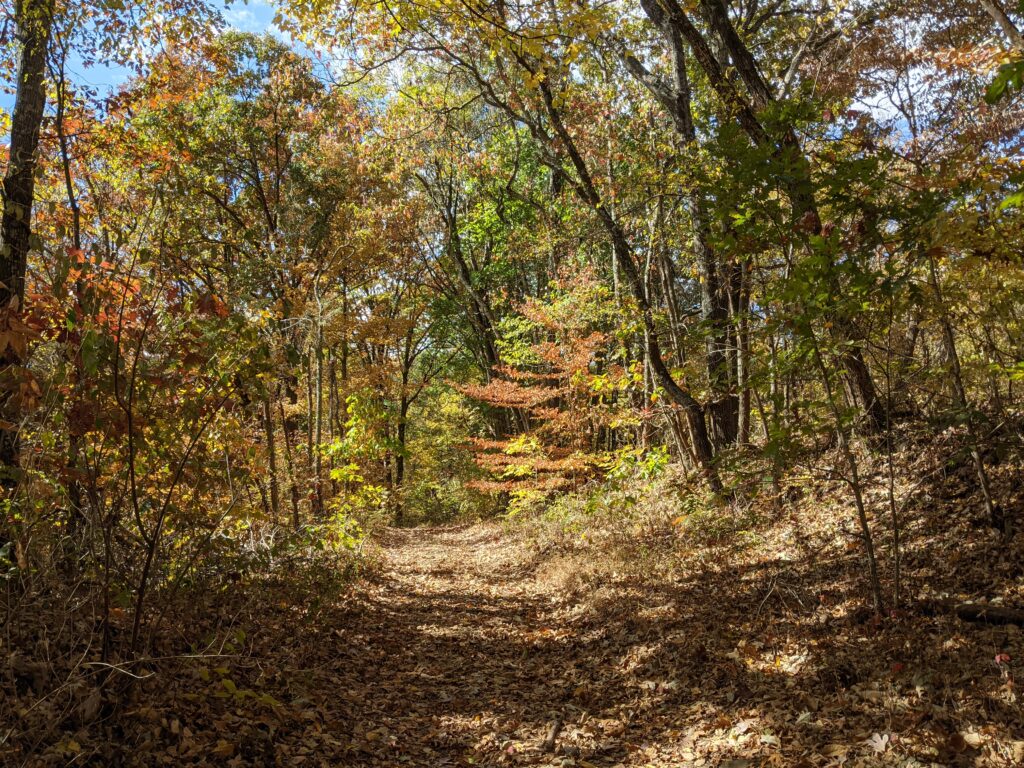 Now when you tell people you were on a trail following an old roadbed, they think of a nice smooth road with grass growing in the cracks. Believe me a couple of places on these trails aspire to be canyons that were once old roadbeds. Most are covered with big rollers and leaves, a difficult trail to follow. So forget that idea of an easy stroll. Ok, this one switches back and forth between easy and not too bad with only about 1/3 as rollers and leaves.
Tuckerhill road heads West , meets Minerva Mine road, labeled also Tucker Hill road on Google maps just to be confusing and goes to Rt 1. I'm not going to do the whole play by play, Lots of little roads. I hiked to an area called Rock Creek where the trail starts to curve north. I didn't have the Battery Rock leg uploaded and had an overall map that had no detail. That's ok, I've done the route before. Blazed it with curvy i's as a matter of fact. Several years ago more than my memory will take me. But that's for tomorrow.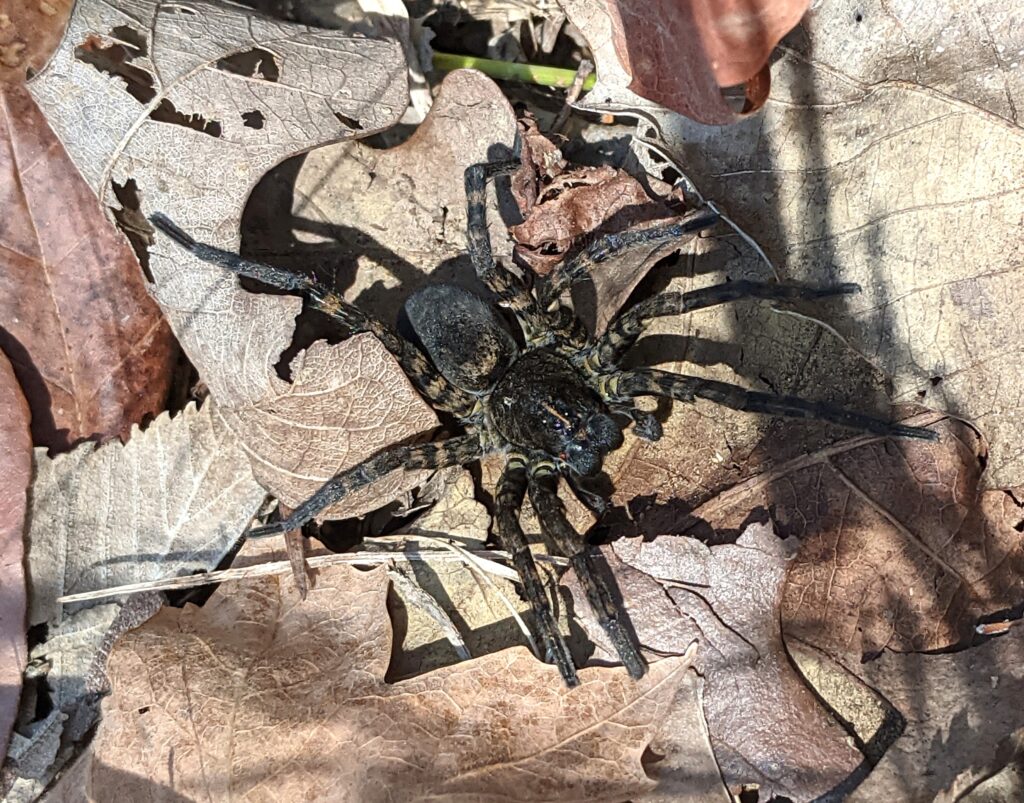 Turning into the woods again this sign welcomed me into the parking area. There hasn't been one since that tree in front was a sapling.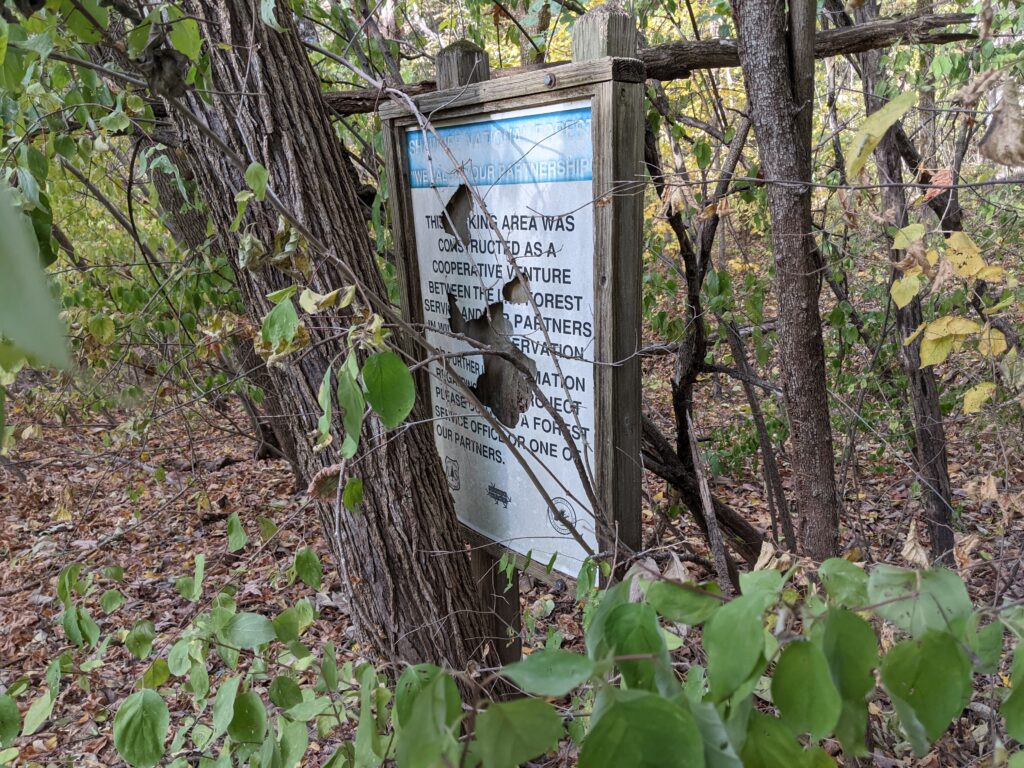 I stayed not far into the woods that first night.
DAY 2
I headed off thinking I had only a few miles to go looking where Camp Cadiz was, I didn't have an actual map of the R2R trail here and didn't know it took a big curve West and back. I was running tight on water, but found an actual flowing creek.
A lot of my old curvy i's and even older painted plywood blazes were still around but pretty far between. Once in awhile a new one too. Still not hardly any maintenence and user made trails made it hard to be sure where I was. Avenza was working okish, but just showed red hashmarks since all I had was the overview map.
Part of an old pickup cab with the gas tank still inside. Lots of old vehicles in the Shawnee.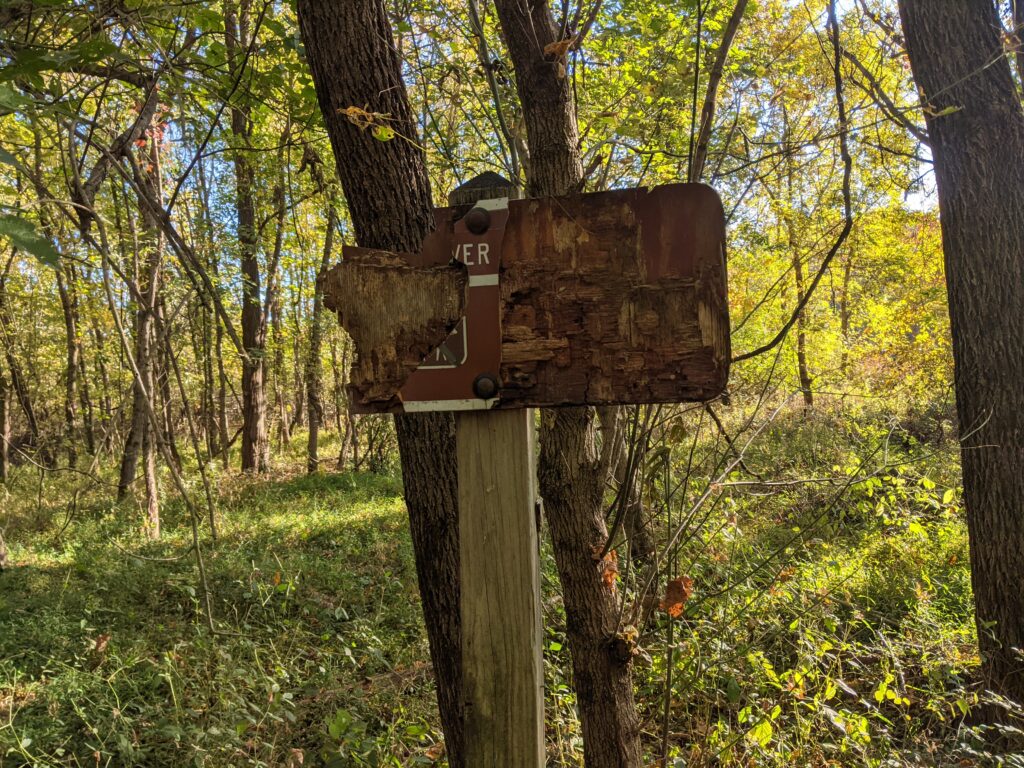 A wet crossing! The water felt good. Lots of water still in Rock Creek as I passed earlier.
CAMP CADIZ! A faucet across from the Vault toilets! About 6 or 7 Deer hunter tents and campers there, no sign of anyone. Naturally the park maintenance guy was cleaning it. No problem! I filled up my water bottles. Then I ate a late lunch. I think it was 1:00pm or close. I probably spent an hour there. Looking over the chimneys, reading the bulletins. I think I played a game of offline Risk on my phone to relax and rest my feet and shoulders. I headed back into the woods around 2pm.
Disaster hit about a half hour later. To the point I got to an intersection with multiple points. Avenza seemed to want to go to the left ward one. So I followed it along a creek bed until it petered out. A check with Avenza showed I was North of the path that was going to curve West. I decided to just go bushwhack South and refind it. I had to climb a steep hill. It was just over the top according to the Avenza map. I got up there and Avenza said I had passed it. There was nothing up there. I went a little further and it was showing me moving further away. I finally bit the bullet and retraced my steps all the way back to where the intersection was. Somehow an hour was gone.
I started taking a faint trail but Avenza showed it wrong again. So I took the obvious one up a hill that it said was wrong before and now it was right. I think it didn't have a lock on the satellites the first time, plus my map was very general and probably not super acurate there to begin with. Of course I should have downloaded the Battery Rock leg to start with, but I didn't because I thought I already had it, then thought I could just make do without it.
So somehow it had got to 3:30 and I was tired from bushwhacking up bluffs. I was PO'd at myself and had to hike hard to even get to the intersection with the E'town leg when I had thought I was going to at least make it it past High Knob. The worst thing was that I had a couple of hot spots that had moved on to blisters. Last year I had only gotten to Eddyville and this was shaping up to be the same. The curse of my Fall hiking was on again. I made it finally to the intersection and cleaned, popped and let my foot with the blisters heal until morning.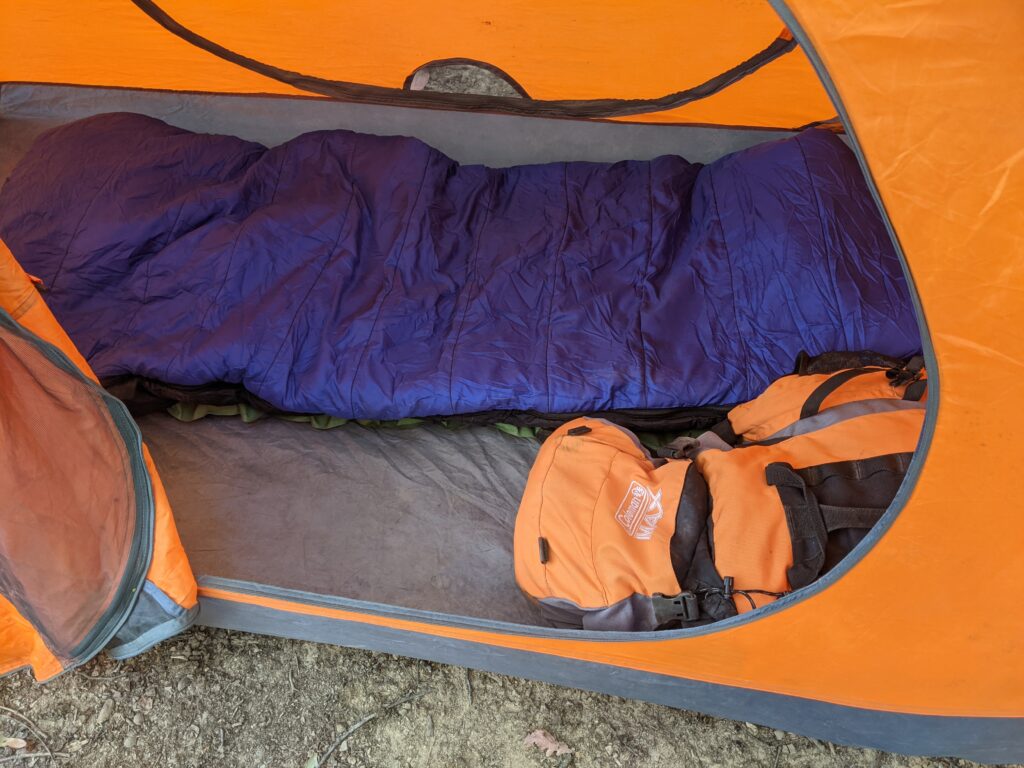 DAY 3
Down in the low 40's last night. My REI down bag was so warm I hated to get out. Plans are to water up at High Knob and get as far as possible without aggravating my feet too much. The colder weather will help. I had washed off my feet and let them air all night. I had a thick pair of winter socks and used them for the cushioning. Only my right foot had problems. The usual problem child.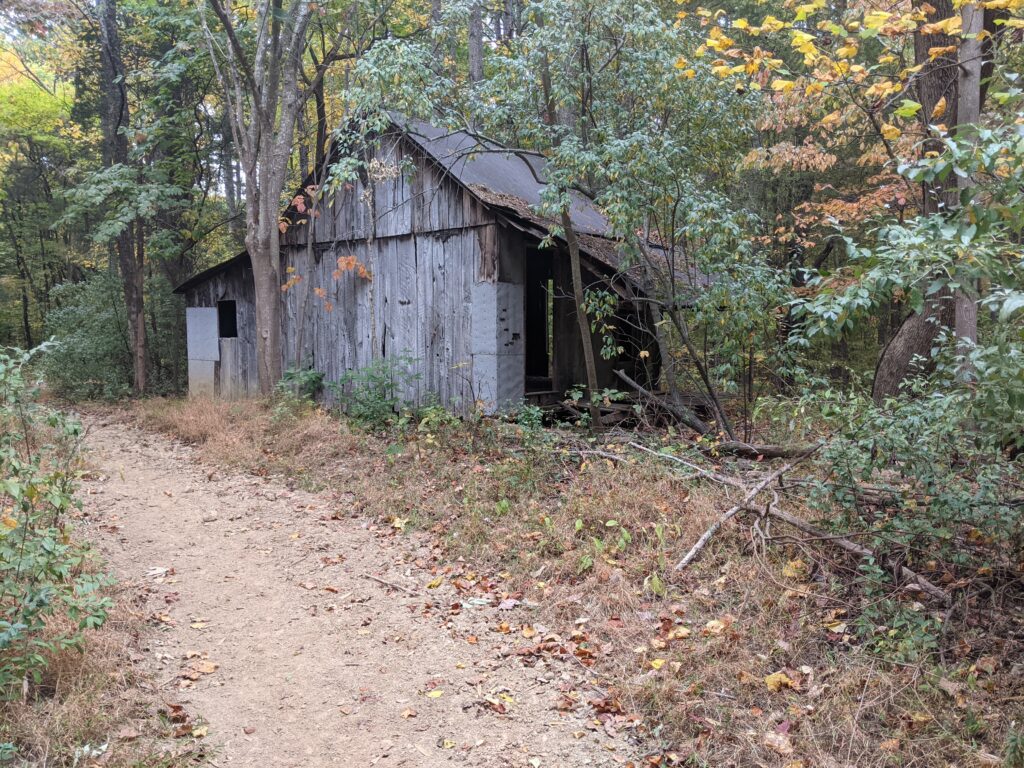 I got to High Knob, checked in with JoJo. Bought her last 2 chocolate dipped vanilla ice cream bars and ate them, and a pepsi. She thought that was a terrible breakfast so I also bought a banana nut muffin which was more to her approval. She's a card and one of my favorite characters on the trail.
Filled up fron the spigot out front and headed out.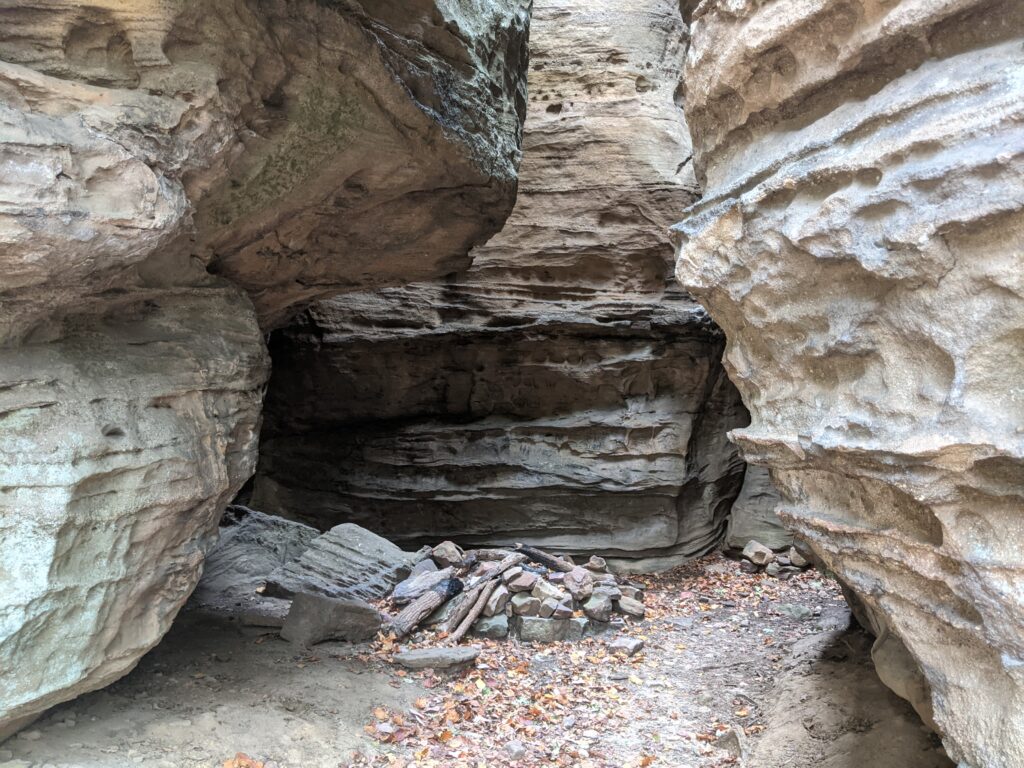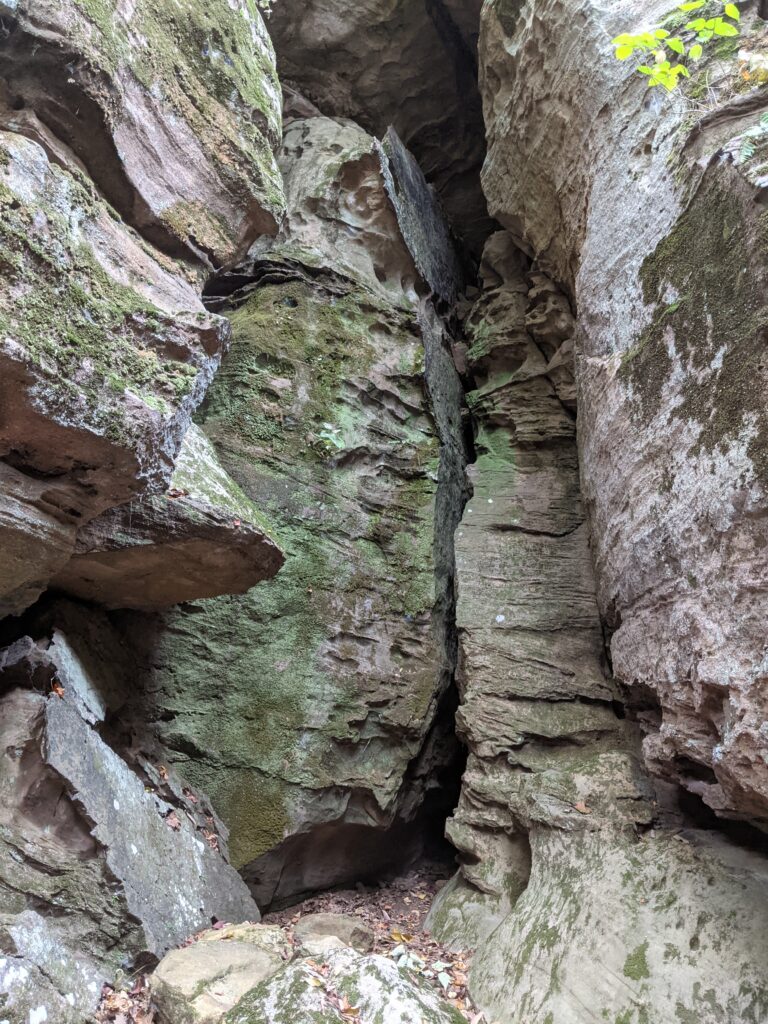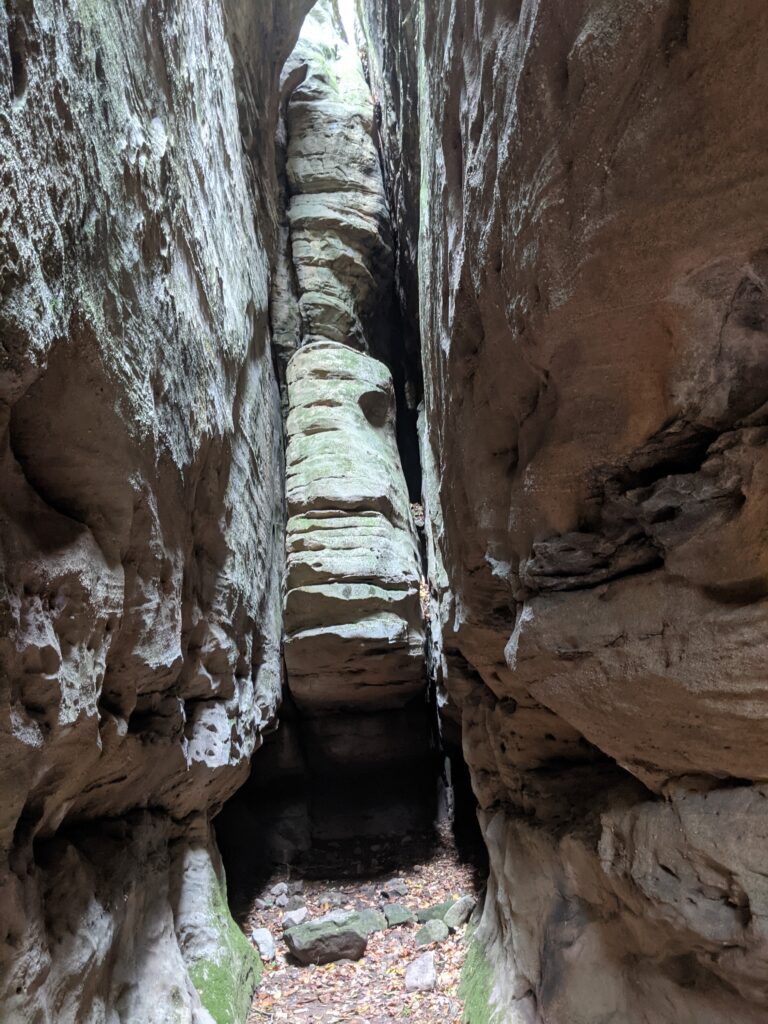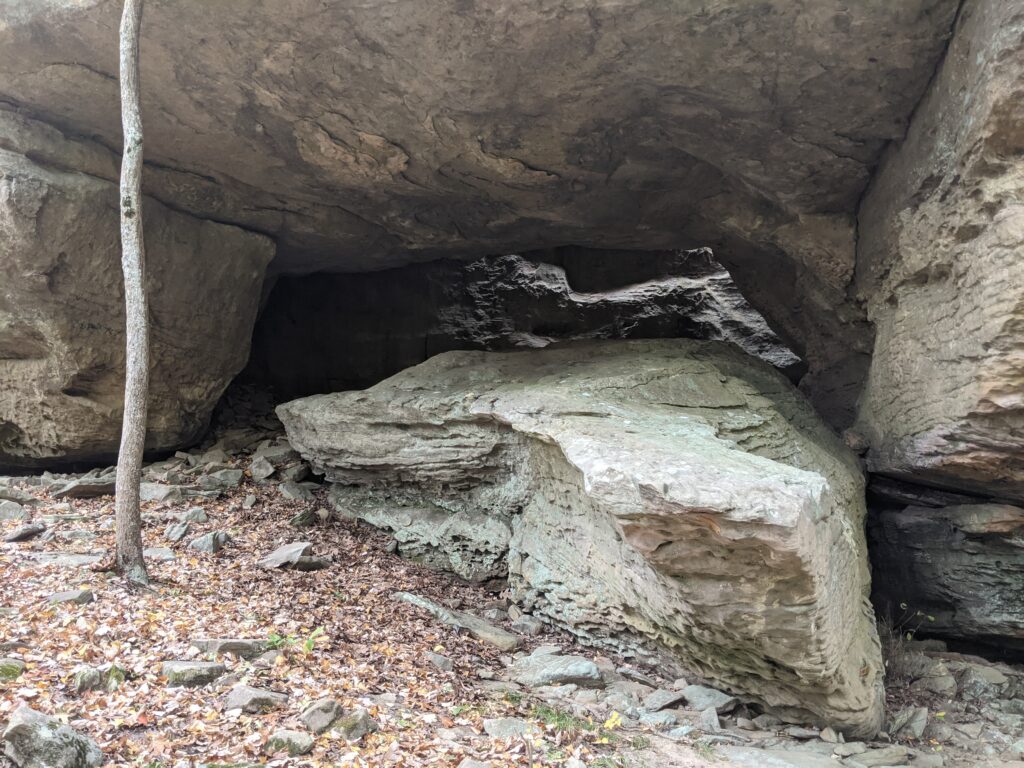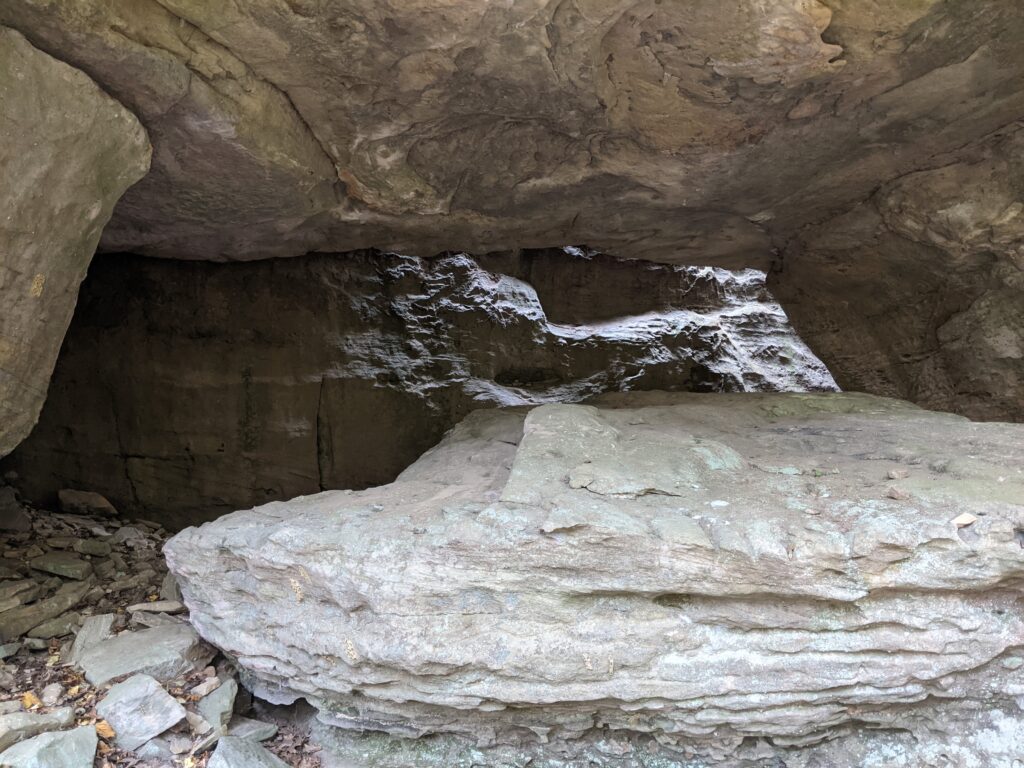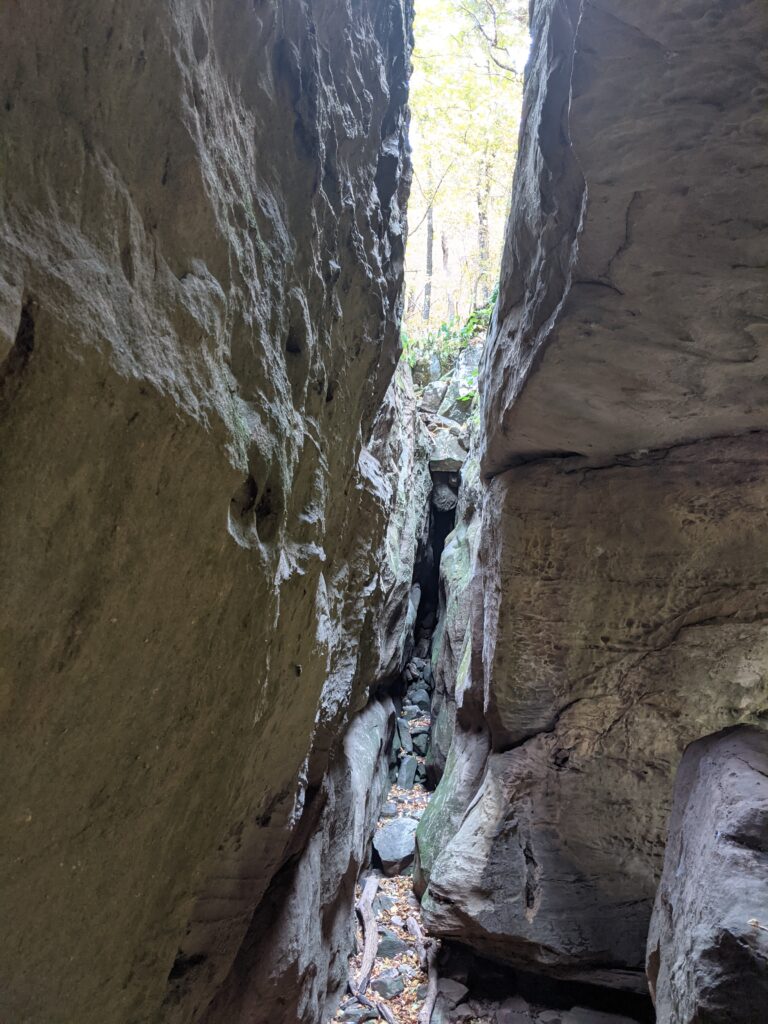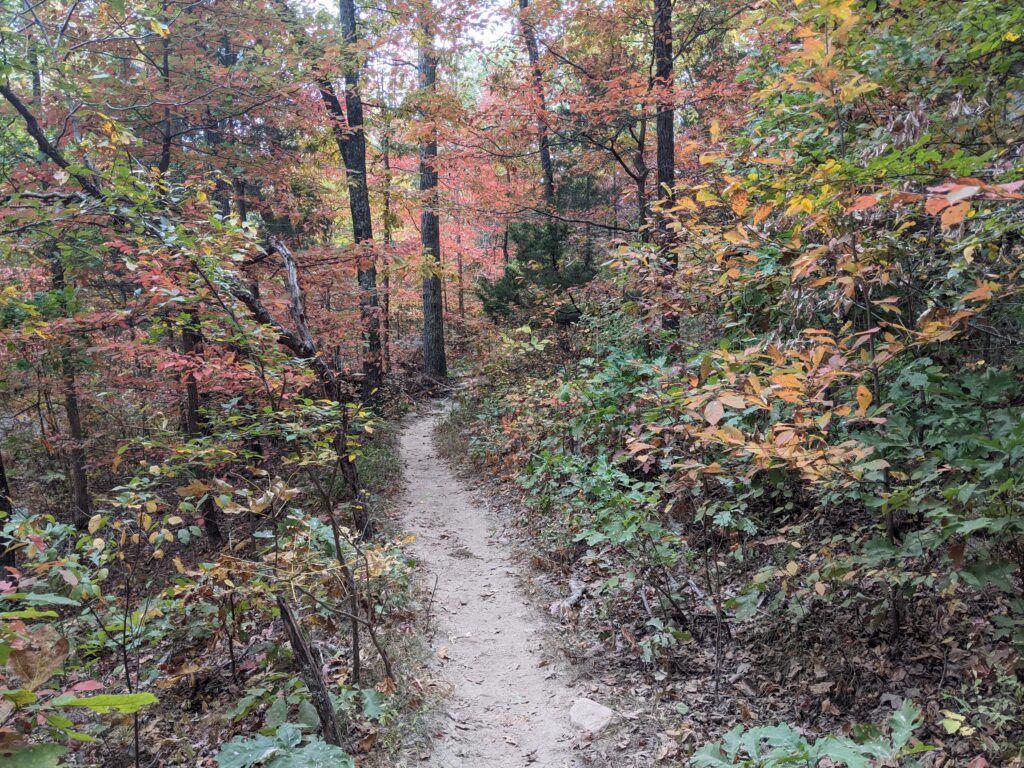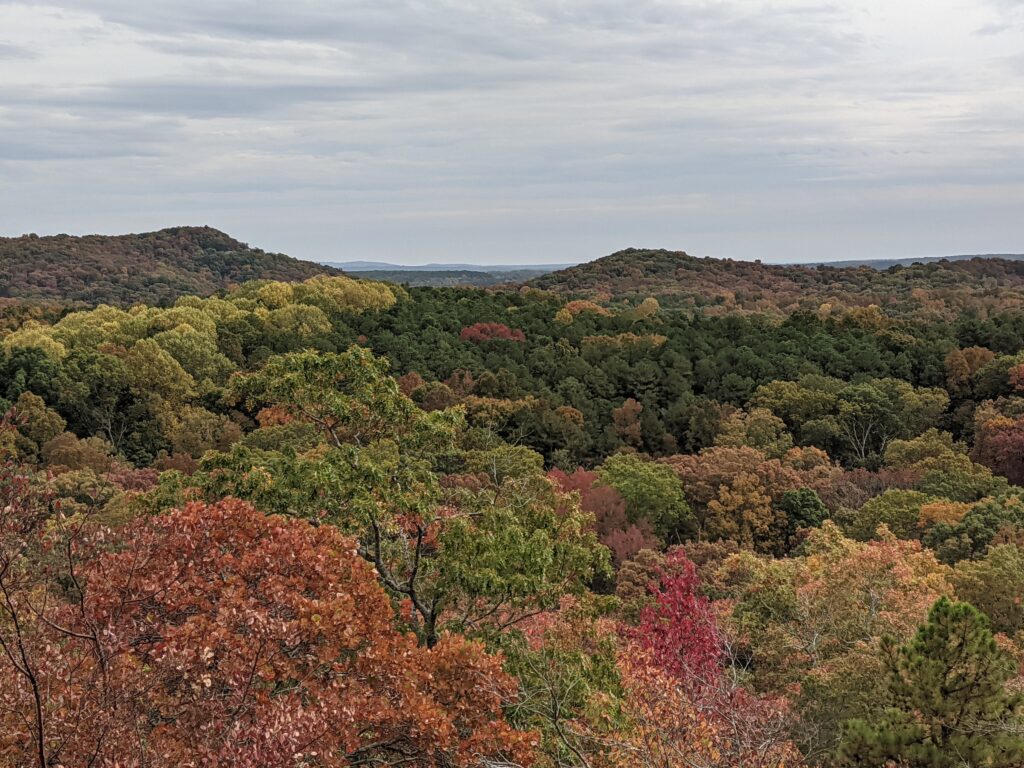 Some doritos and nuts fell into my pockets and two cold bottles of water. THANKS!
I took the opportunity to get a picture there of the memorial to the founder of the R2R trail. John O'Dell. I met him once at a R2R Society meeting. A great man.
Raum road is always a slog. The treats make it much easier. I headed that way feeling good.
I noticed the bridge at the end had a flow of water on the left side on the left side of the creek. I believe it was spring water. Clear and filtered great. I was able to fill my two 1L bottles there. I came across Holly Hobbit camped at the creek on the trail. I talked awhile then headed on, I camped at the junction of the trail and Benham road at the top of the ridge. 32 that night. I was snug and slept like a rock all night.
Day 4
I started out early hoping to get to see the sunrise before it got too high from the observation areas.
There is one great camping place before Rocky Top. I don't know what it is called, but I'll call it Little Rocky Top for clarity. It was a great time to be there.
This campsite has some not so swift people who stay here. Last year was also dry at this time and we walked up to an unattended fire in this same fire ring with flames. No one around.
So this year I walk up and see a hilarious result of the latest idiots fire building prowess.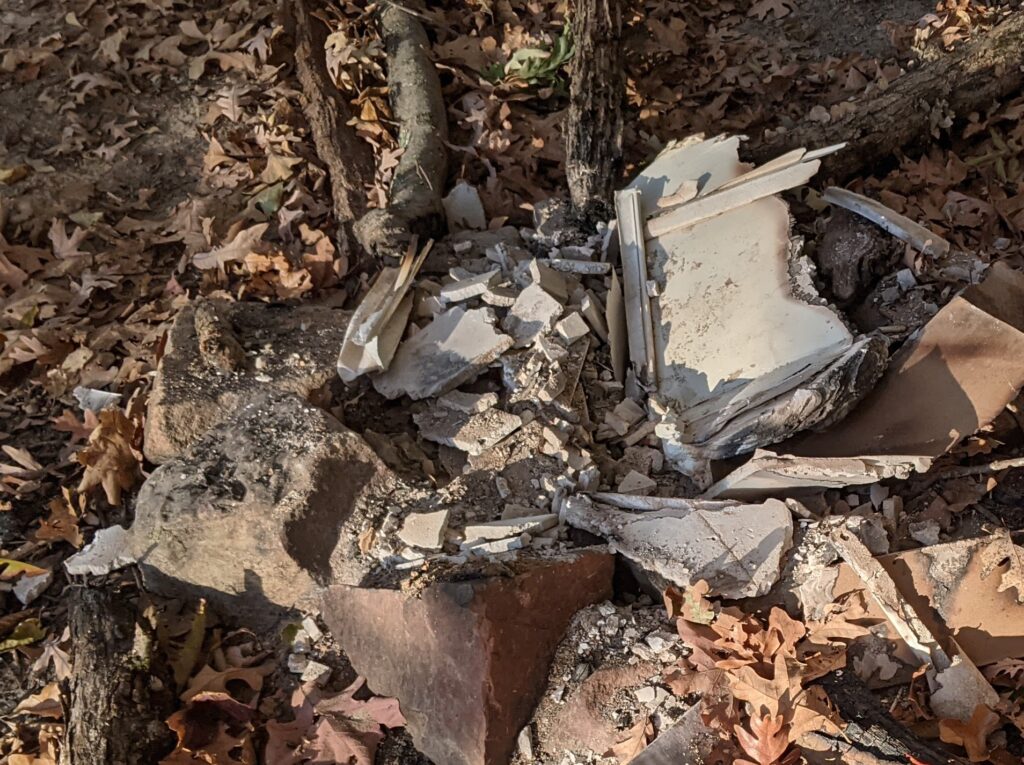 Yes, drywall! He brought drywall to burn and it is singed around the edges in places. Apparently breaking it up didn't help. Basically trying to burn concrete. Nice.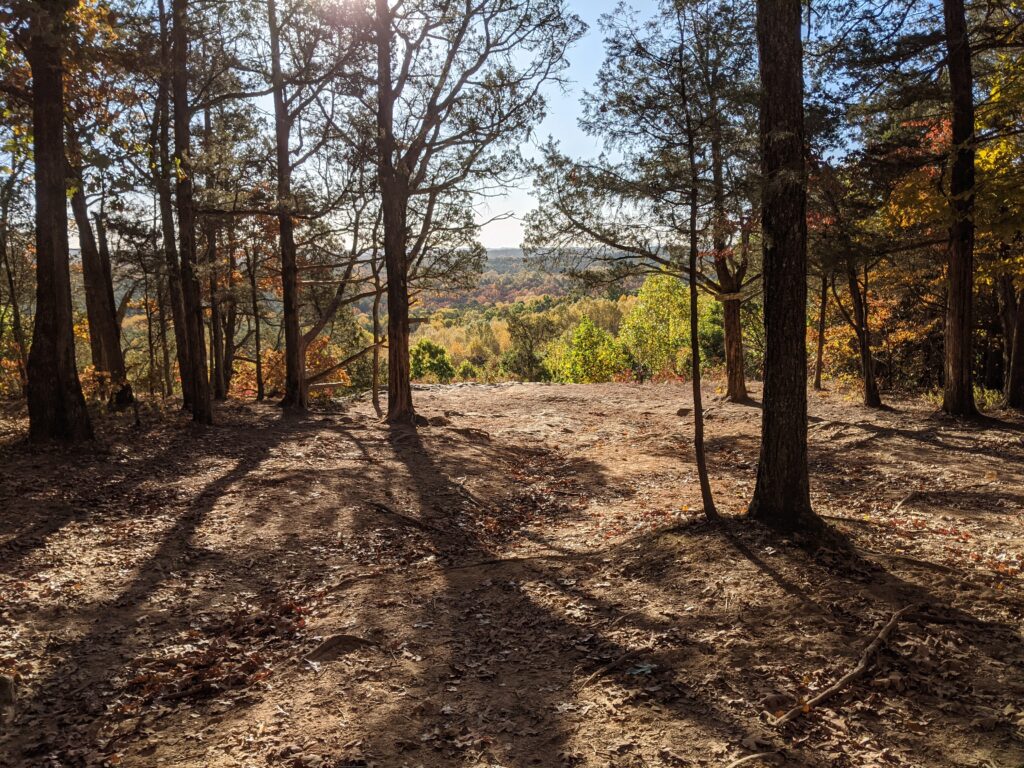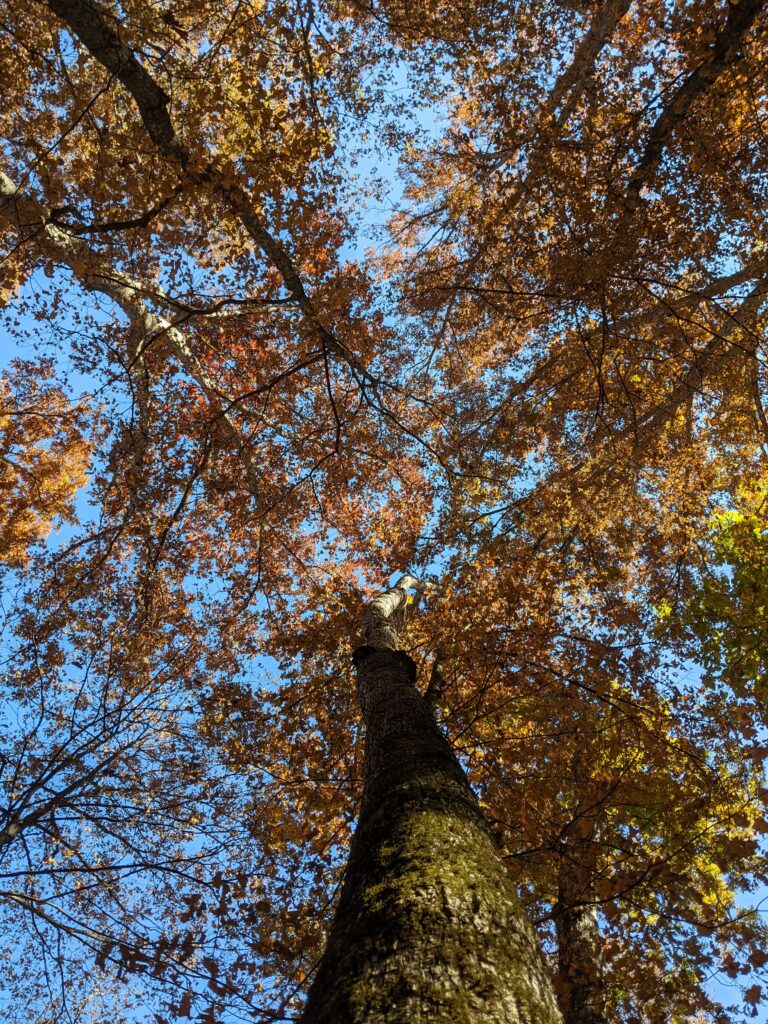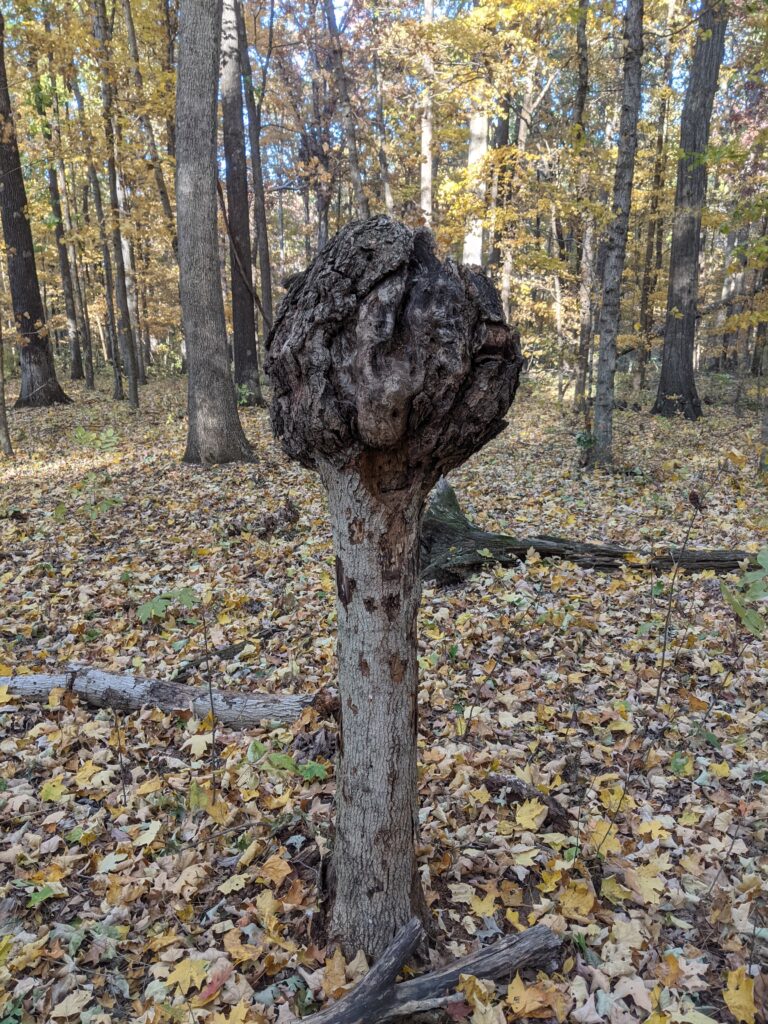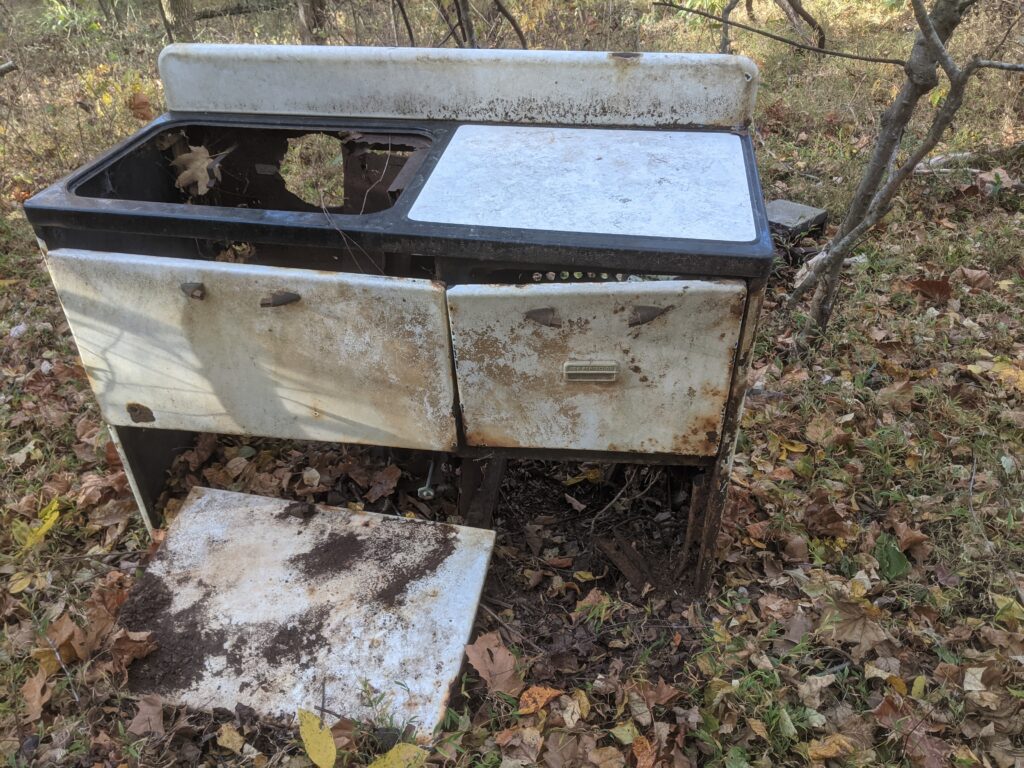 Day 5
What a way to start the day! Beautiful sunrise. I Started in my Merrill's but will switch to the Crocs I winterize for the long road walk up hill (Wear socks). The blisters are doing better. I wear the crocs when I can and they don't hurt at all in them. The more air they get the drier they stay, Hot and sweaty needs to be avoided. They had a frozen glaze of dew on them from being outside, so hot is not a problem!
This morning is downhill to Bowed Tree Crossing, then uphill to Eddyville. I don't need a morning workout.
As you near the crossing you will see a bluff across the creek with a pool in front and a shelter cave. This is the bluff you must climb to the top to stay on the trail.
There is a trick to getting down the trail from here. You take the wide path to the left across the dry creek bed coming down from the West. Keep an eye out for the official way across to the incline on the bluff. (There is a user made one without the official cedar blaze that actually goes to the same place.) You must take the incline to the top of the bluff to stay on the trail. There is also a trail from the end of the bluff heading to Guest Crossing to the North. You want to keep to the left and keep climbing the bluff. My first time I thought the trail on the left of the dry creek just went up to the trail. It doesn't go anywhere. It just continues up the hill past the official cross over to the incline because people get lost all the time there.
The climb out from the valley seems endless. Lots of CCC stonework. There is one place across the trail where there is stonework to let a creek dross the path without eroding it in a hard rain. That's about halfway out. Some is more uphill than others but it never relents for long.
At the top just up Homestead Road is the Lusk Creek Trailhead. Big enough for horse Trailers and has a vault toilet. If you are really low on water before the hike to Eddyville, there is a spigot on the left side of the BB Rance entrance. Ask for permission at the little office inside if there is anyone there.
There used to be 1 path from there to Eddyville and the trail took it. It's straight for the most part. They built another trail that goes West to the highway, then along it at the bottom of a hill South, then back East to connect to the original straight trail. The trail to the highway is the official trail. Use your own judgement. This guy guards the original trail.
I was there at 12.05! Take your time eating if you aren't in a race. You earned it!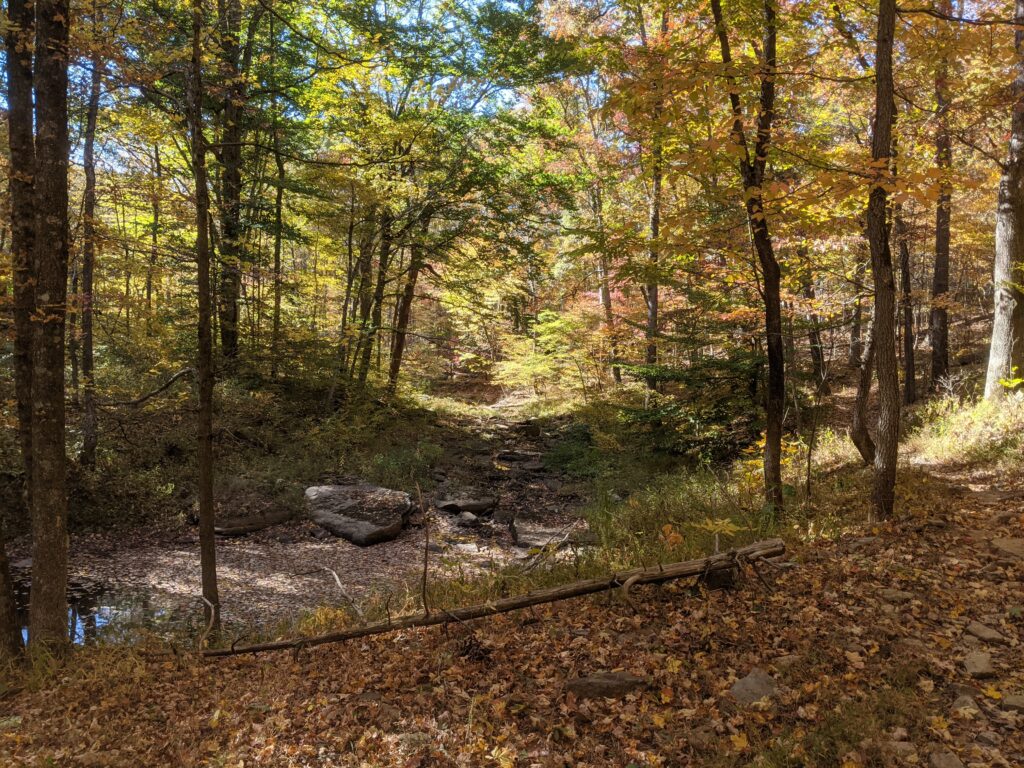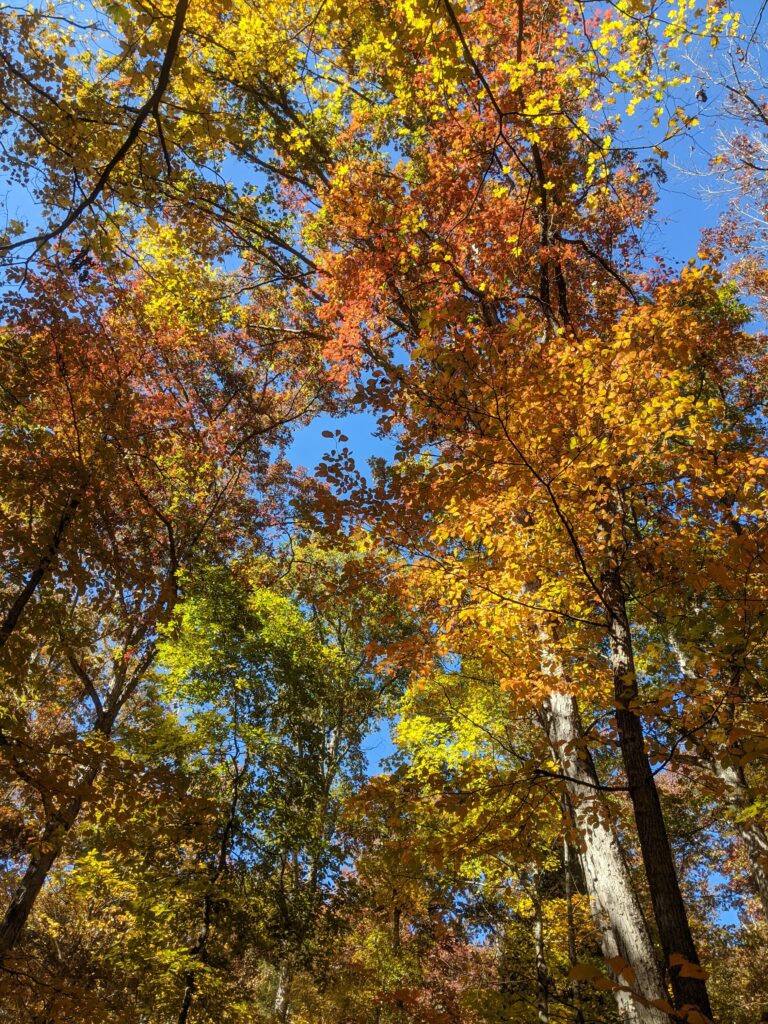 Today wasn't a long day, my blisters needed some rest.
Day 6
So today my wife was going to pick me up. I'd call her from Gum Springs trailhead and get a ride to the Cabin at Shawnee trails in Goreville. Back on the trail in the morning. We finalized plans fron the top of Crow Knob which was very cold, but I did get the sun coming up.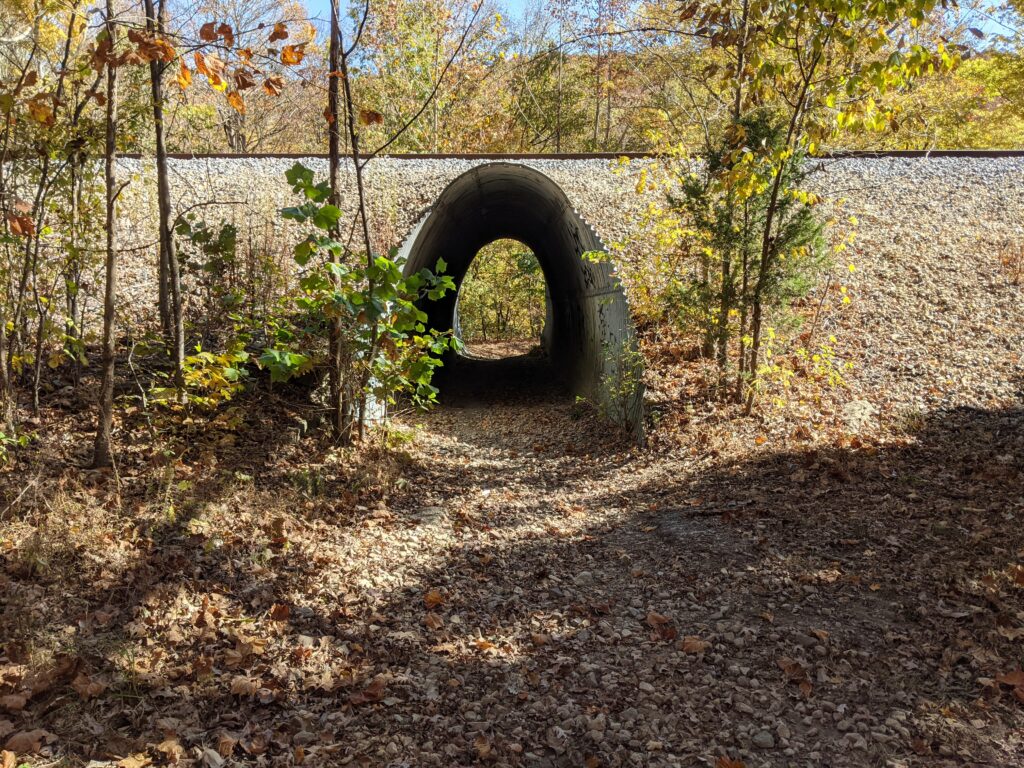 Why they didn't put it on a tree at ground level we will never know. It's right of center through a gap in the trees. That whole plateau up there has a lot of roads and earthen work, plus bricks and iron objects. I'd like to know the history. There is a Cemetery and crossroads nearby. The Crossroad North is blazed with the old Block style painted i's but on the map it just curves from the north and reconnects back to the current R2R. Bill Gilmore says no record of it ever going that way.
My wife picked me up and we went to a cabin at Shawnee Trails in Goreville. I hadn't had a shower in 6 days and despite some strategic hand towel and soap work especially on that one foot, I was starting to really reek. She let me sit in the front seat though. She brought special and regular bandaids and antiseptic. The blistered area had healed a lot already though. The second from the middle toe needed a regular bandaid just to keep it from rubbing on the middle one. I actually used up the hot water taking such a long shower and cleaning my filthy feet. Constant dust from the trail went right through the shoes and socks.
Day 7
I was feeling a lot better today. My feet didn't hurt at all, and my spirits were really uplifted by her support, she even brought the cat! I couldn't stay up very late, and spent a lot of time getting clean but felt better on the trail than I did the first day!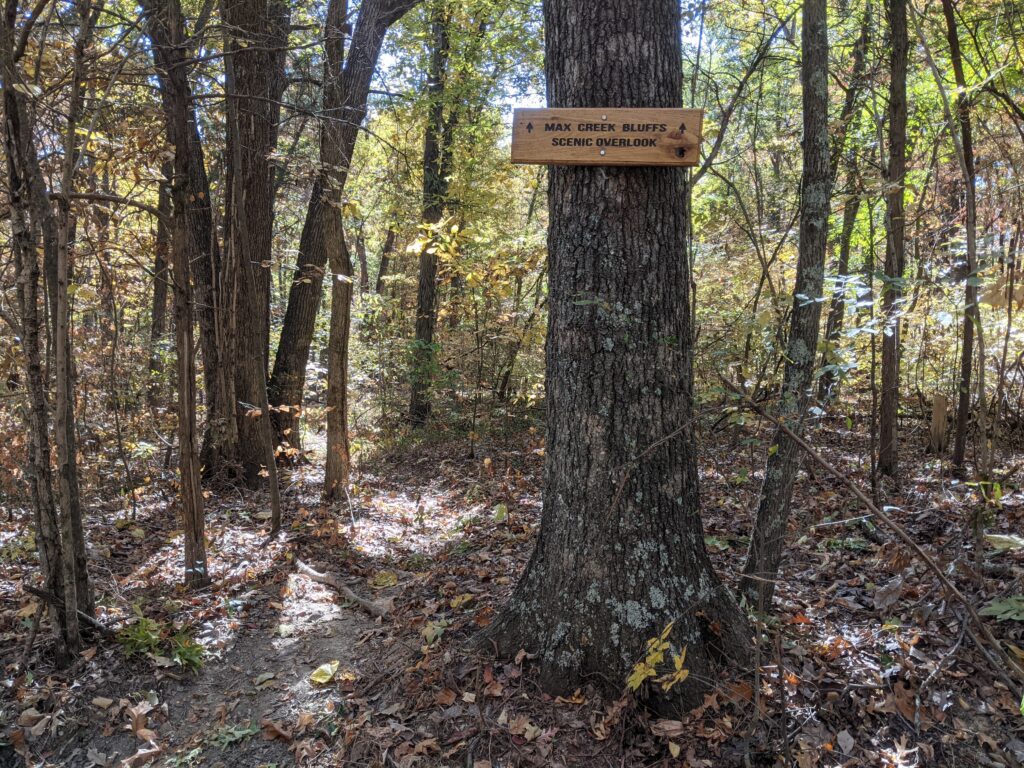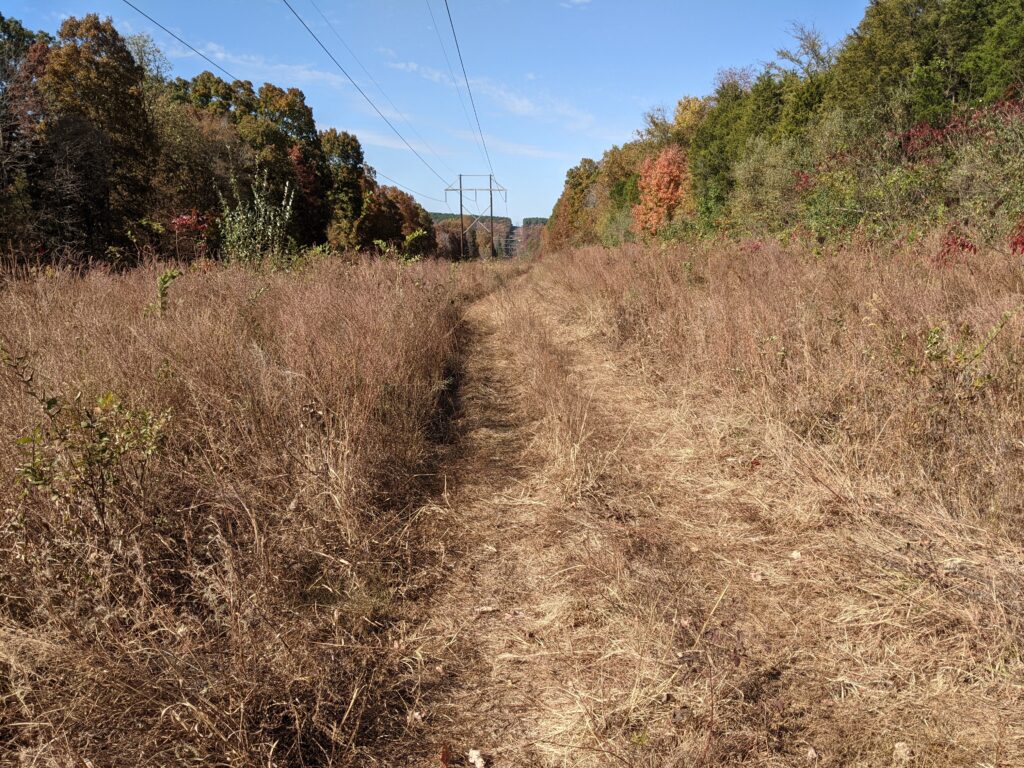 DAY 8
Lots of road walking right off the bat, then endless trail walking in Ferne Clyffe today. First the pine woods I used to think was the most magical place in the Shawnee. Now it's one of the worst after all the wind damage on the trail. Basically impassible and no route around.
Up around the North end of Tall Pines road, I came across a pickup almost on it's side off the road. Not too long before coming up a hill I had looked up to see a Bobcat cross the road at a driveway. Even boring stretches can be interesting. As I got there, a police car passed me and we got there at the same time. He said it was just called in, and nobody was there. I could see the back side window of the extended cab was broken out. That's how they probably got out. The door would have been pretty hard to open.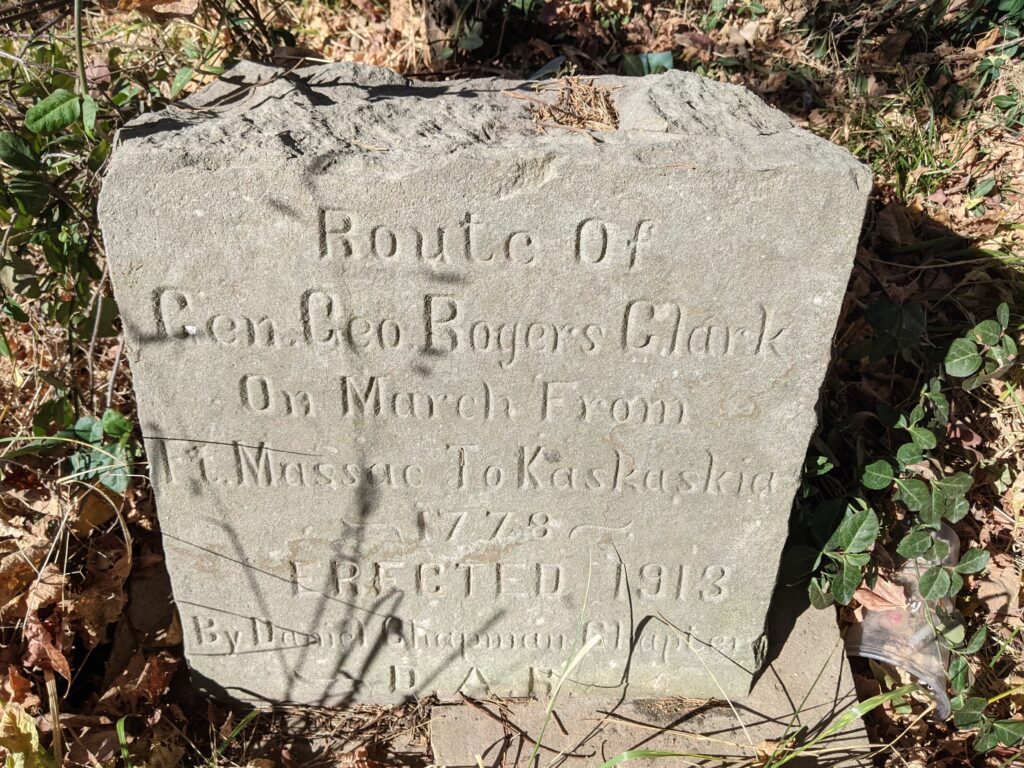 It's still a LONG way out from there.
Day 9
Ok I was feeling 100% again and today is a lot of road. Time to crank it up a notch. My foot no longer needed a bandage. My goal was Giant City, Campground and if enough time the 2 miles after a shower for A STEAK! Big Dreams!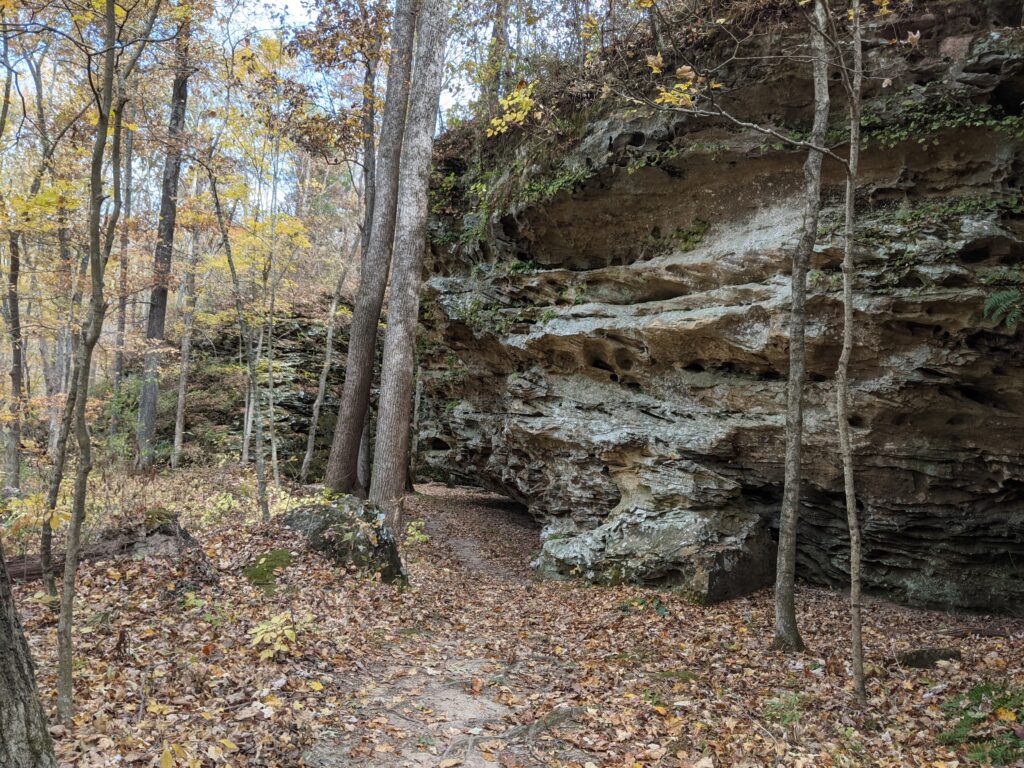 I told a kid in front of his mom the Panthers name is Dan. Den is a typo. Mom laughed anyway.
After Panthers Den you get to a big Bluff. The way up is an old roadbed.
She offered me a spot on her paid for space and I gladly accepted and saved me a walk to the caretakers spot at the other end of the Camp. By the time I talked to her awhile and got cleaned up and set up, I just wanted to crawl in my sleeping bag. Everyone had a fire even though it was blowing a gale and the partiers shouted until after midnight. Then I got some good sleep. Made a lot of miles today. Big breakfast tomorrow.
Day 10!
37.7 left to go. After the short 2 mile trip to Giant City Lodge, I ate a big Breakfast and got a late start to Alto Pass.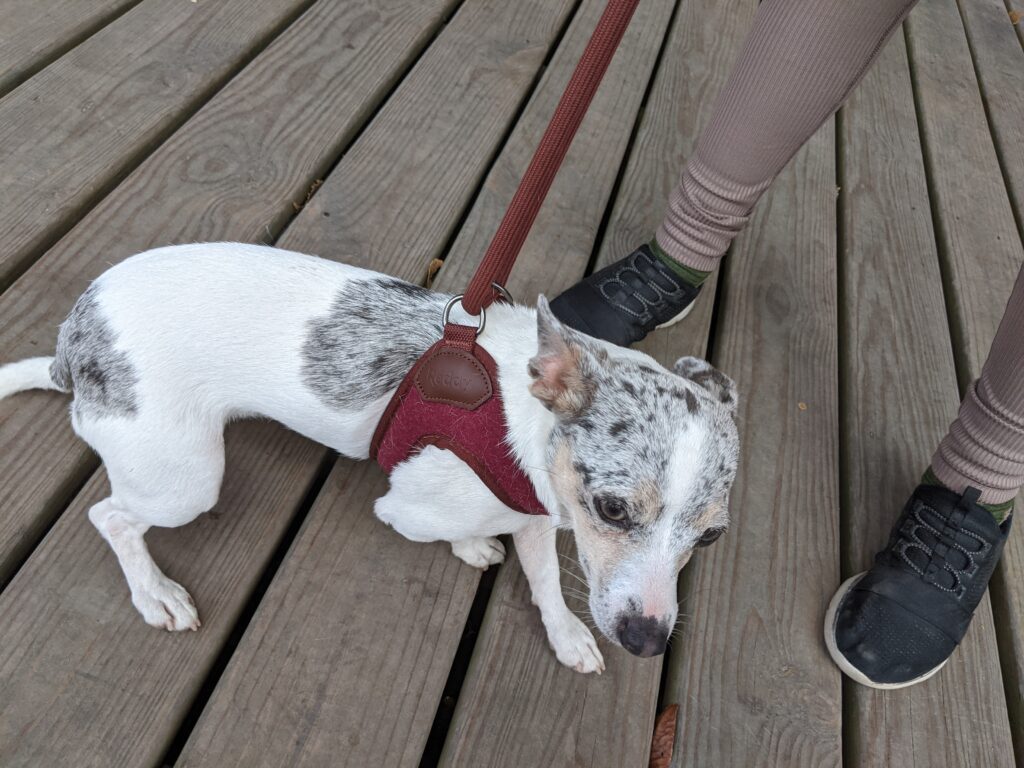 At 5pm I was at the Cedar Lake spillway refilling my water and getting a little panicky.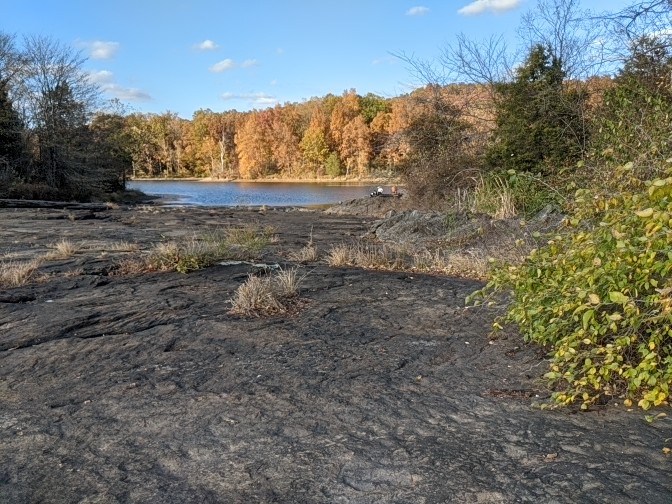 I had to at least get to Alto Pass to finish the next day. As the sun had set but the light was still bright, I got to the last part of the woods 4.5 miles later and encountered a copperhead in the path. I flipped him to the side with my stick. Glad it was still light. I got to the Waterworks road and made the mile plus walk in the dark to Alto Pass (with my flashlight). The city park was a little too well lit. I walked up to the convenience store way late at 7pm ish and got a Pepsi out of the vending machine. I had already told my wife I was going to sleep in the Park, and goodnight. I made the decision (Under the influence of a cold Pepsi) to cross 127 to the end of the new 127 turn off for Bald Knob road, and see about stealth camping between the reroute and the old bridge piece of road. It worked and I put my tent right under the road closed sign. Too bad it was very windy and the sign was loose and rattled all night. I was still 3 miles from where I really needed to start and sleeping fitfully because of the rocking tent in the wind, and the rattling sign, I decided to start packing to get an early start at first light. (No photos in the dark sorry)
Day 11 no time left.
Then when I was packed I decided to set out by flashlight a little before 5:am. Bald Knob cross was awesome looking BTW at night.
I walked the 3 miles, and still pitch black, decided to continue by flashlight my stick at the ready. No problems. I was actually a little ahead of where I needed to start.
Just downstream from the crossing is a Spring with a good flow. I filled up one of my quart bottles. It would be enough. (I also had part of a 20oz. in a front pocket.)
Once before, I had been at the other end of the Godwin trail at 11:30am and finished the other 11 miles by 4:30. Surely, I was ahead of that now by all the extra effort?
I got to the end at 11:30am. Ok. Same time. The big difference was with all the extra effort I was much more worn out and had to take a break every mile after the first 3 miles got me past route 3.
No hills but mile after miles of flat gravel road takes it out of you by the monotony. And I had over did it and not recharged from yesterday.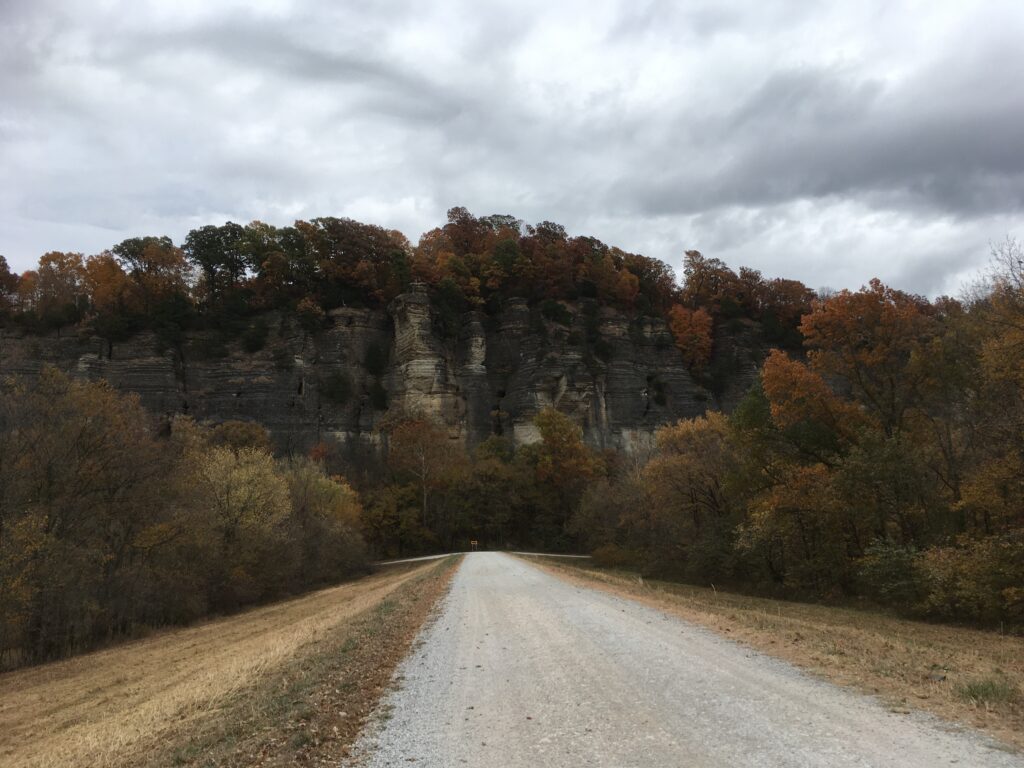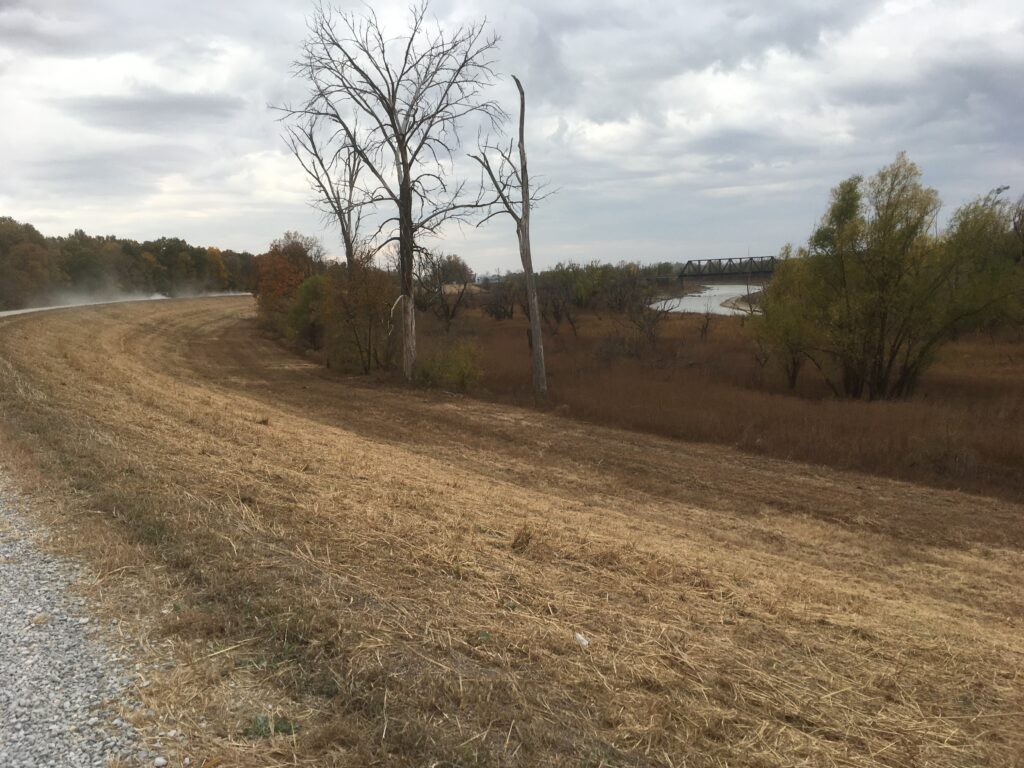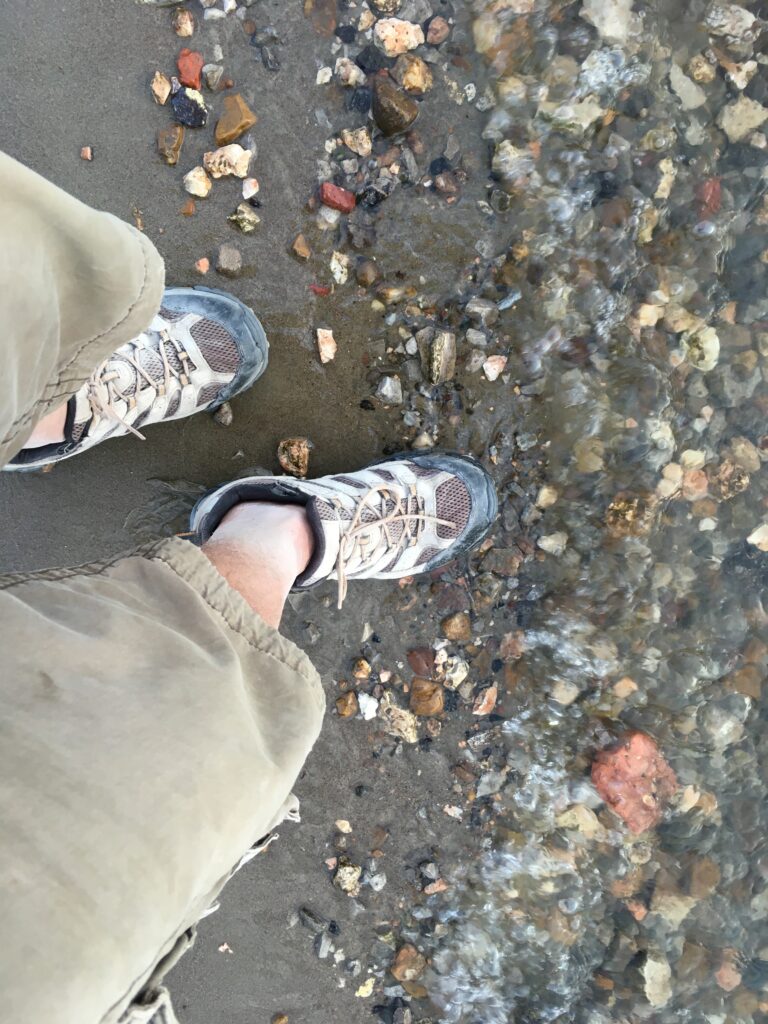 The Mississippi beach was just like the ocean without the shells, but colorful rocks made it extra special. I MADE IT! My feet hurt from too much hiking but no blisters. I don't know why the water was so clear. Maybe because big muddy wasn't flowing? She brought KFC. Oh man the relief of sitting in a car seat. Then off to DQ for a Chocolate Moolatte. Large. Got home and took a long too a hot bath with a lot of bubbles. Then fell asleep after a few minutes in my own bed with no sign rattling.
But I did make it, though I had my doubts sometimes. I was later than the previous effort, but I did make it before dark! I want extra points for that extra 50 feet of low water beach!