The goal of these two trips was to see if I could find any remaining traces of the old R2R trail where it used to go North from the Godwin West trailhead and Snake road and cross the Bluff (Same Bluffline as inspiration Point, but further North) somewhere, then pass Pomona Natural Bridge and end up at Cedar Lake and connect to the current trail. It was abandoned in the late '80's after a particularly bad flood and rerouted down Godwin trail.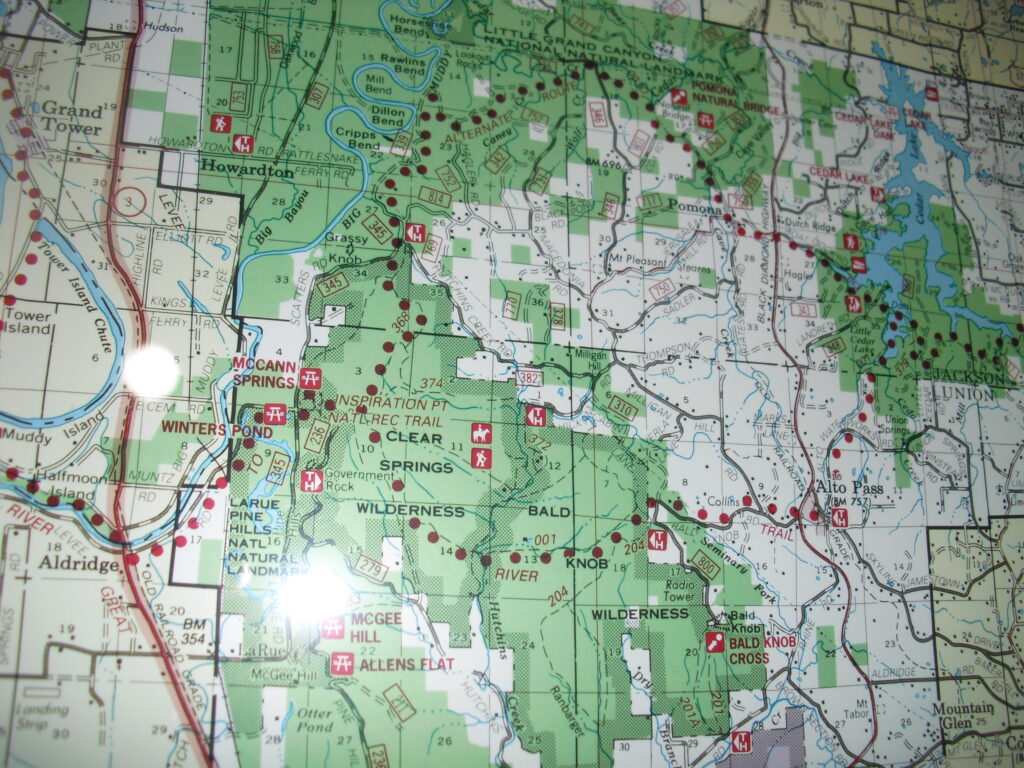 As you can see in the first map the R2R turned East at Rawlins Bend in the Big Muddy, South of Horseshoe Bluff. On the second trip I took the old roadbed over to the old trail along the bluff. I believe that was actually the old roadbed the R2R followed and if so, there are no longer any traces I could see of the blue block lettering i paint that it was probably marked with. Though I did see an old blue blob on one tree along the way.
On the first trip, I drove to the end of Hagler Road and continued down the old roadbed past the gate. It had a roadbed going West there But I thought that was too far South. (second Trip) I was actually following the old R2R route I think, but didn't see any markers.
I followed the roadbed North until it turned West across a creek and got to a powerline. (Which is where I should have continued North East. ) I went left to a rise to see across to the Big Muddy, and found an old ridge trail.
I followed the old ridge trail up to a great rocky overlook. It turns out later that was not Lookout Rocks, but Horseshoe Bluff. The bend in the Big Muddy there was actually a pond left by the Big Muddy. That explains why it is so clear.
I bushwhacked across the bottoms over to Hickory Ridge Road coming out North of the big interesection at Cox Road. I didn't know I was too far North, and turned North. When I realised it, I just had my wife pick me up.
On the second trip, I was solo and just parked at the end of Hagler Road. I went West at the old roadbed there and I'm pretty sure (about 60%) that it is actually the old R2R path as I didn't see a more reasonable way, and it turns North at the Bluff line and follows the bluff rige on the East side like in the old R2R maps which means it crosses the low lands Much further South than I did the first time and could then come out at the intersection.