First of all, this is on Private Property and you must call the office at Camp Ondessonk to let them know you are visiting Hoggs Bluff. If they tell you fine, they will write you in, you are good to go. They may want you to come sign in. I don't know what they are currently doing, but they have always been friendly. The only times they are closed for visitors that I know of is when Kids are there in the summer.
The easiest way to get there is to walk a very short way east from Gum Springs trailhead and take the driveway to the North with the chain across it. You will see the camp Ondessonk sign on a tree with their phone number. Camp Ondessonk itself is a great hike, with many trails. You are walking on an old RR track bed and it is very smooth and flat. You will know Hoggs Bluff when you see it. It is surrounded 4/5ths of the way around by water. Like a castle with a moat.
Head up and have a look around. It is very peaceful and scenic. We went after a few days of rain and had waterfalls off in the distance around the circling bluffs. If you continue up the track bed you will get to Ondessonk with it's bluffs, waterfalls caves and cabins, lakes and suspension bridge. But that will be another page. On the map you will see Cedar Wonders area upper left. That is a different page. 2 waterfalls and Easter Basket Arch. Easily added for a day trip along with the Max Creek Loop also will be a different page.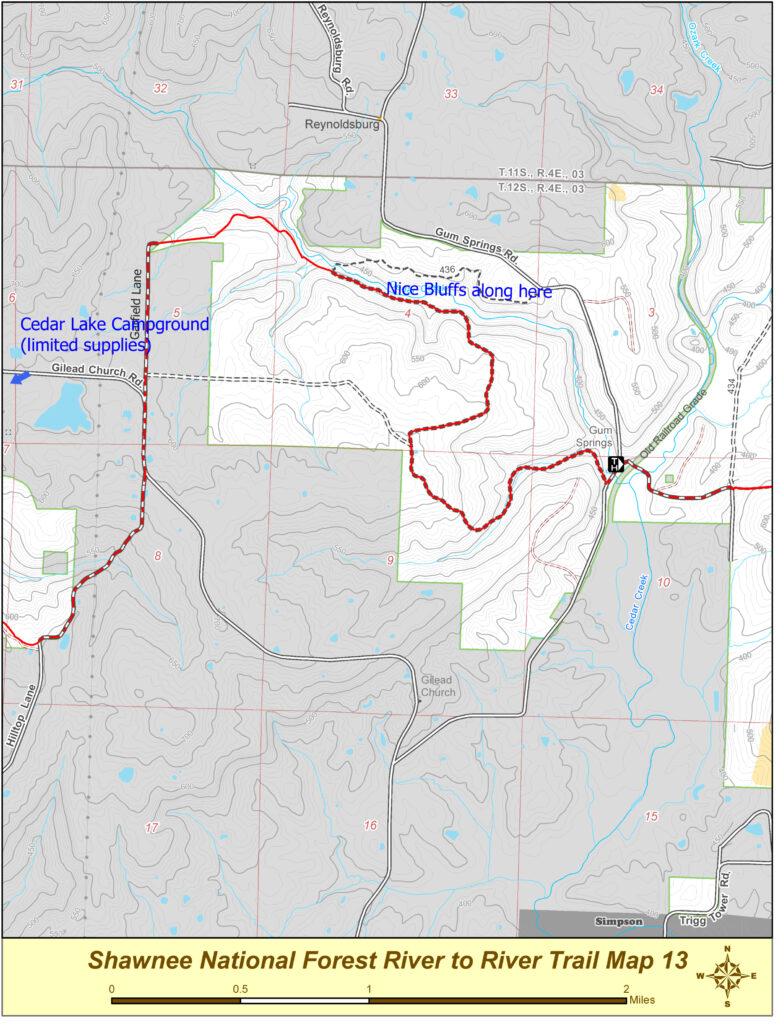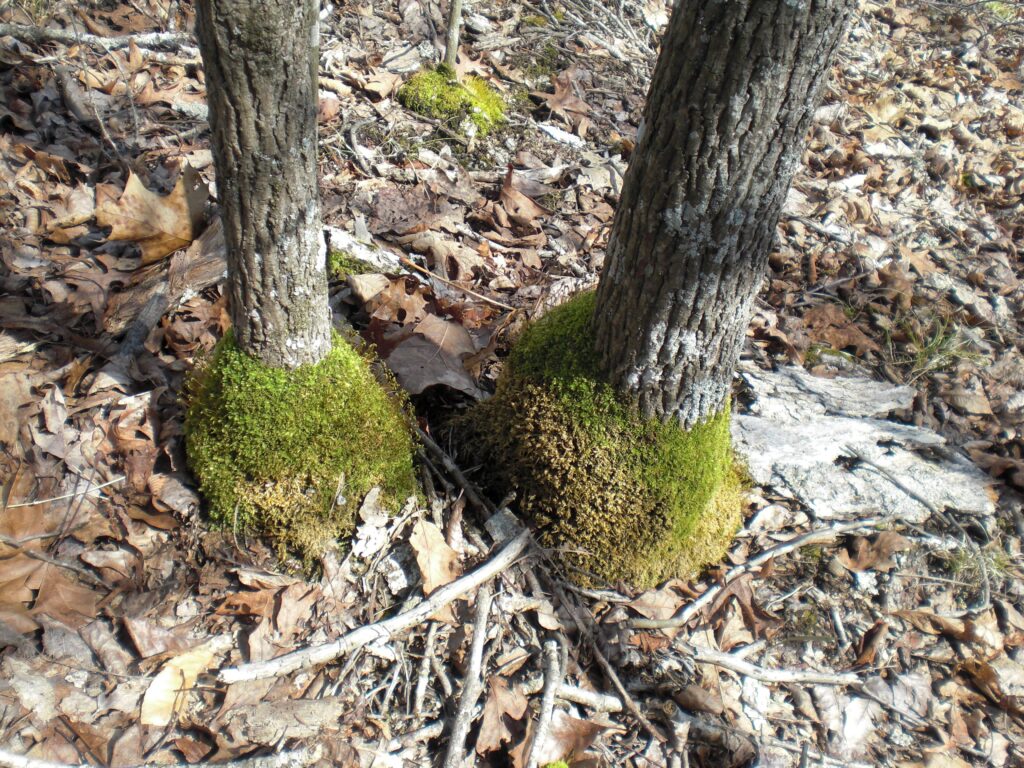 Heading North on the East side of Cedar Creek fro the Gums Springs Parking lot. There is a Yellow Blob on one Rock wall that used to be an Indian Petroglyph Then someone drew around it with black paint to make it stand out, then someone else wiped off the black paint and smeared the original into a blob, then someone fixed that. It's about as real as lincolns log Cabin. I've seen it and don't bother looking for it.
The Story of Lincolns Log Cabin. PT Barnum used to tour with Abraham Lincolns log Cabin with his traveling circus. They also had another cabin they also set up and took down at every stop. After years of this the logs started getting pretty rotten, so they combined the best of the 2 and continued showing the mix as Lincolns Log Cabin. Finally they were getting pretty rough so they sold it to a group wanting to display it permanently inside a building for protection against further deterioration. That would have gone a lot better, but the building they were going to put it in turned out to be a lot smaller than it needed to be. So they cut down Lincolns cabin to fit.
Now when people pay to see Lincolns cabin, they are amazed how small the cabins were back then. Flash photography is prohibited to keep from damaging the fragile logs. The lesson is, by trying to preserve things sometimes people make it worse. Leave it alone and let nature take its course.