I've been absent awhile. Sorry about that.
11/12/22 Oops, forgot to update this page! The Hike was 14th-25th due to dome blisters I had to nurse a few days Success! The page is posted!
10/13/22 I'm leaving tomorrow morning for yet another thru hike attempt. Aside from the water issue, the weather will be perfect for the next 10 days. Of course they change it every day. I am starting at Battery Rock as I did on my first attempt. (successful) I hope to see some great color this year and my Pixel phone takes very decent pictures. I may be able to update this site at the halfway point when I'm planning on spending the night in a hotel to clean recharge and recharge myself.
7/26/22 At last I've updated a couple of pages. The Hutchins Creek page has a section added at the end with our Spring hike with some of the group Shawnee Saunterers (for Hikers 50+) a good time.
Also I have completely revamped the Cedar Wonders trail (previously from 2015) to a newer trip we took there this Spring starting from the end of Garfield Lane along the R2R trail to where it meets the Cedar Wonders trail at the North East part of the map. It's a little longer than the way in from the start of Garfield road and East along the new entrance, but less muddy.
More updates soon and some new trips.
2/16/22
I posted my recent hike around Cedar Lake and up the roadbed North East if it. Didn't see any old cars but did see one of those round ponds they dug for water around the homestead areas and down to the South of the spur heading West I found a cistern. Hey, it was a day of exploring! Posted it as Exploring Cedar Lake Trail 379.
I did add a page showing my last trip to Turkey Bluff circling clockwise and finding 2 cabins. (First on private land, second abandoned.) It's titled "last trip to Turkey Bluff" Believe that at your own risk. I think I know the old R2R route now and might try it before the leaves come back.
But I'm thinking of exploring a place a guy told me about several years ago. I love old homesteads and abandoned cars. There is supposed to be old homesteads and abandoned cars in the area I have circled North of the R2R trail on the old roadbeds shown in the old 4th edition trail guide. Stay tuned for that. I'm also going to take my Google Pixel out to Panther Hollow RNA yet again and get some place marks and tracks for where everything I've found so far is and get some decent pictures for once. That's the plan for the near future.
I had to drop out of the hike at 3:30 am on the 3rd day at Eddyville when I felt my heart racing and knew I had A- fib and knew my hike was over. Because of that I was admitted to Harrisburg Hospital and was also diagnosed with Rhabdomyolysis (often called rhabdo) is a serious medical condition that can be fatal or result in permanent disability. Rhabdo occurs when damaged muscle tissue releases its proteins and electrolytes into the blood. These substances can damage the heart and kidneys and cause permanent disability or even death. It was aggravated by dehydration. I never had any symptoms and after 3 days of IV's I was good to go home. Never heard of that. It was either the dehydration or the hard fall I took on a boat ramp a few days before that got it going. The curse of a Fall thru hike wins again. I have a page up for it.
***************************************************************************************************************************
I had a heavier 45L I used my previous trips. I also carried a 3.5 lb one man tent that had a rain fly and more room but saving a pound and a half with this Bivy tent. It's a very simple setup. About 2 lbs with the ground sheet. (yeah, I set it up loose for the back yard, I had the side lines too tight. Did fine in the garden hose test, and a later light rain.) I aired up my 5 YO klymit Static V pad and slept on it. It held air for 2 days so it's still fine. It's like a pound and a half. Somehow it all comes up to about 12lbs. That's the base weight not counting food, water, clothes, equipment- but expecting 5-8lbs on that stuff. We will see but it will be my lightest yet. 11 days out. Here's hoping it rains some good creek running rain this week. (It can clear up and stay 70's after the 15th if it wants!)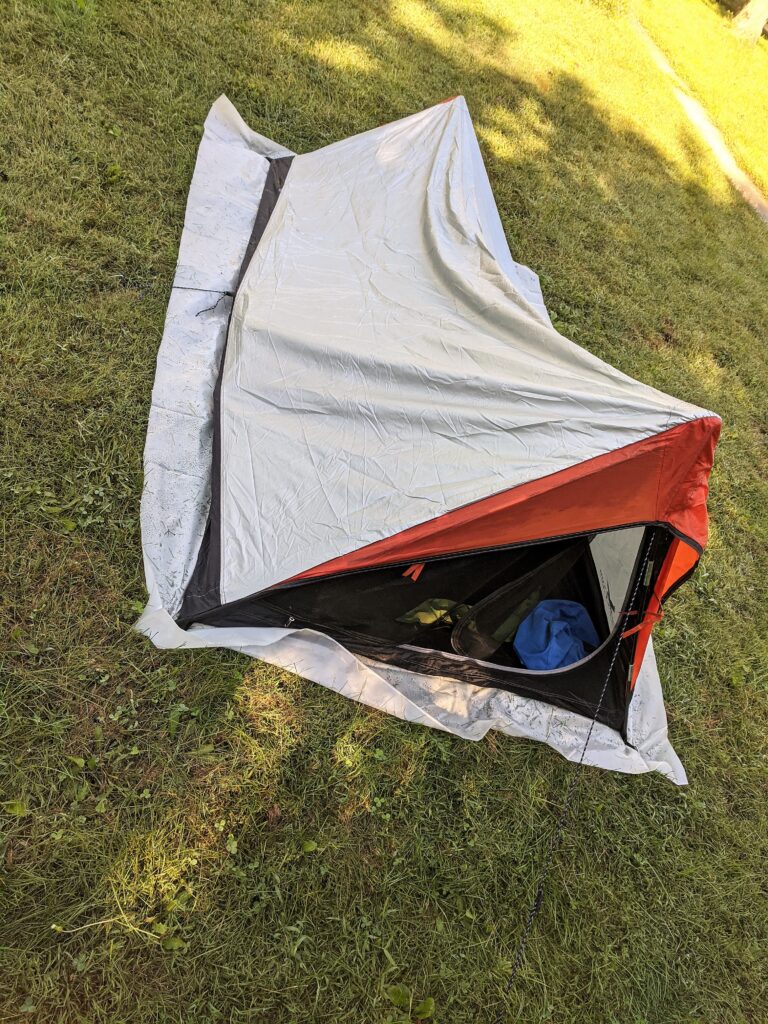 I've updated my picture taking ability with a Google Pixel phone and will be posting most likely better photos from this day forward. I will probably be taking my iPhone SE 1st Gen as a backup on my upcoming Thru trip and taking a really heavy Anker 20,000 power brick to let me carry enough charge to make daily updates.
I posted the R2R thru hike Joe and Me took on the 15th of October. My part ended on the 3rd night at Eddyville at 3:30 in the morning when my heart went into A-fib. I had it happen 9-10 months ago and it converted back to a regular rhythm by itself about 6 hours later. No symptoms other than the fluttering heart feeling. It was about 140 BPM. I was pretty dehydrated without knowing it and when I got to Harrisburg Hospital, I was diagnosed with Rhabdomyolysis (often called rhabdo) is a serious medical condition that can be fatal or result in permanent disability. Rhabdo occurs when damaged muscle tissue releases its proteins and electrolytes into the blood. These substances can damage the heart and kidneys and cause permanent disability or even death. So it was actually a good thing I had the A fib. I had no symptoms at any time, but spent 3 days getting my kidneys and blood stream flushed by IV until the enzymes were out of my bloodstream.
Joe was able to follow with a couple other hikers a day later and they all finished. Here, I was feeling pretty good and smug about starting on Fri. a day ahead of them. At least they finished! Khama wins again.
We had a great hike the first 3 day and did get that fantastic burger and fries at Shotgun Eddys.
I'm planning on making a Thru hike from E'town to Grand Tower starting Fri Oct. 15th. I should be able to post daily on the River to River Trail facebook page. When I finish I will create a page here with way too many photos, a way to descriptive narrative of the trip, an equipment list, trail conditions, and why I didn't finish, or why I did. (I haven't the foggiest idea which yet).
I have completed the Thru Hike twice now, both times in the Spring. I made it to Goreville the only Fall hike attempt I have made and it was unseasonably hot and during a drought. That wouldn't have stopped me, but I was wearing very hot boots and the blisters ended it. (One turned septic spreading up my leg and swelling my knee)
I'm going lighter than ever this time with an REI sleeping bag and a Bivy tent. I've also trimmed 45lbs off of me. I'm trying some Merrel Moab hiking shoes (very comfortable) on the drier parts of the trail and embracing the water with off road crocks in the wetter areas. I've been using Crocs daily for a couple years now, my feet are very used to them. Someone has to try it. I'll be using winter crocks. (Crocs with Socks)
Let's see what happens.
************************************************************************
I finally realized that the reason the Big Muddy photos I took off 'Turkey Bluff' were clear because it wasn't the Big Muddy but a pond formed when the big Muddy changed course years ago. It also wasn't 'Turkey Bluff' but Horse Shoe Bluff so I'm changing that page accordingly.
The River to River Trail Society announced it's Spring guided hike schedule. 3/5/2021
https://www.rivertorivertrail.net/river-to-river-trail-society-announces-spring-2021-hiking-schedule/?fbclid=IwAR2Q9Si15LTqOS91KbS3G-Eec-scGYKFoHVMwy60kiZ_Z8I1-BcwnCIjkUo
In this site will be the new River to River Trail Hike page focusing on my own hikes past, present, and future to places around the Shawnee both on and off the River to River Trail. For current conditions on the trail and around the Shawnee, please check out the River to River Trail Societies excellent website rivertorivertrail.net
As I live an hour and a half away, I'm not able to visit the Shawnee as much as I would like and trips there don't happen enough to keep the site moving as it had been a couple of years ago.
I'm planning on focusing this site on great day trips for people who have traveled the main areas and are looking for something different. I have a lot to post, but it will take awhile. I have at least 8 years of hikes to go through.
I also plan to post a page of trail stories, both mine and anyone who would like to contribute. I don't know that anyone except the R2R Society is archiving them. I for one would love to read them. Stay tuned for further developements.
I also plan on reposting the old green R2R F.S. maps as they have info. not included on the newer F.S. maps just because they ARE out of date. The land stays the same.
NOTICES