First real trip. We spent 13 days driving mostly around Arkansas starting March 15 and getting home the 28th. We bought it about a year ago and worked hard to get it converted to an RV and pass the requirements in IL. to get the RV Plates. That's enough about building it, lets see what we saw!
Day 1. We left Mt. Vernon IL and South through Davidsonville Historic Site, and Stopped at Lake Charles Campground near Powhatan AR.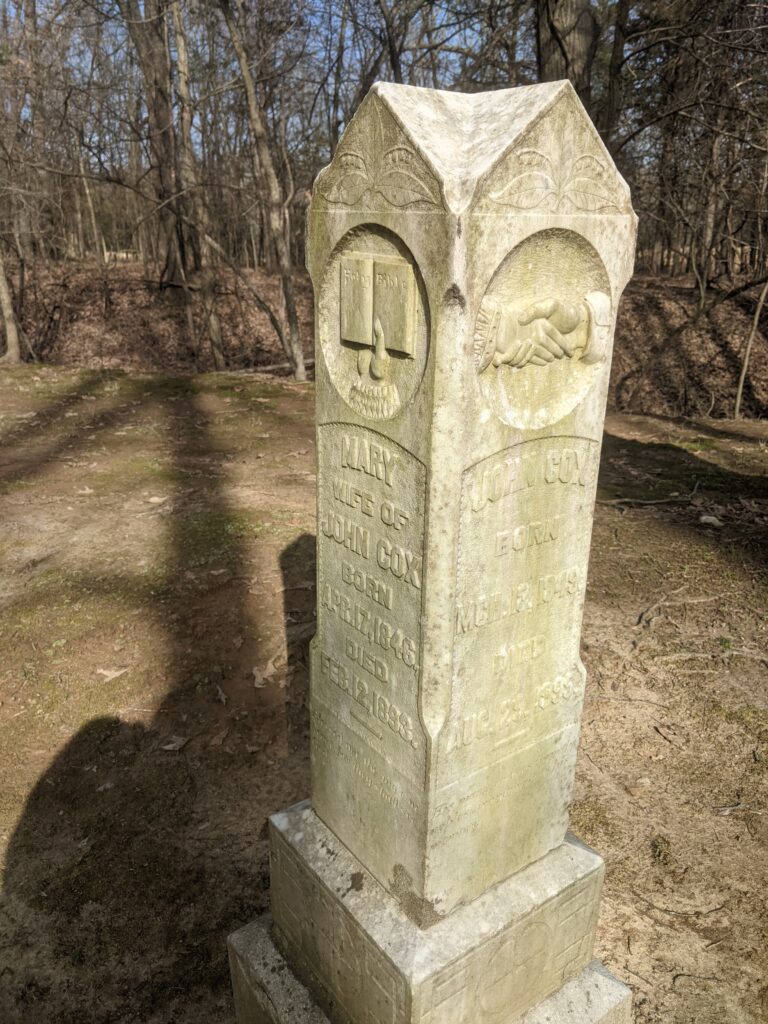 This was the longest driving day and we didn't do much else. We got to our campsite and had our dinner and got a good nights sleep.
Day 2
Today we stopped at Blanchard Springs and Mirror Lake and camped at Buffalo National River Campground.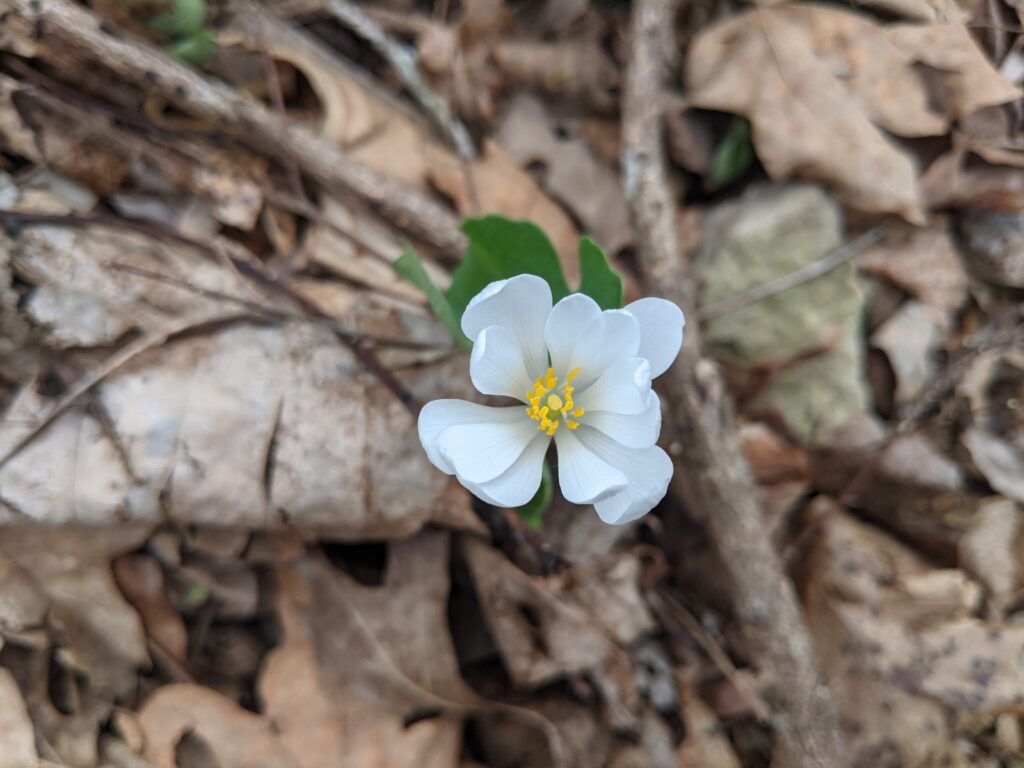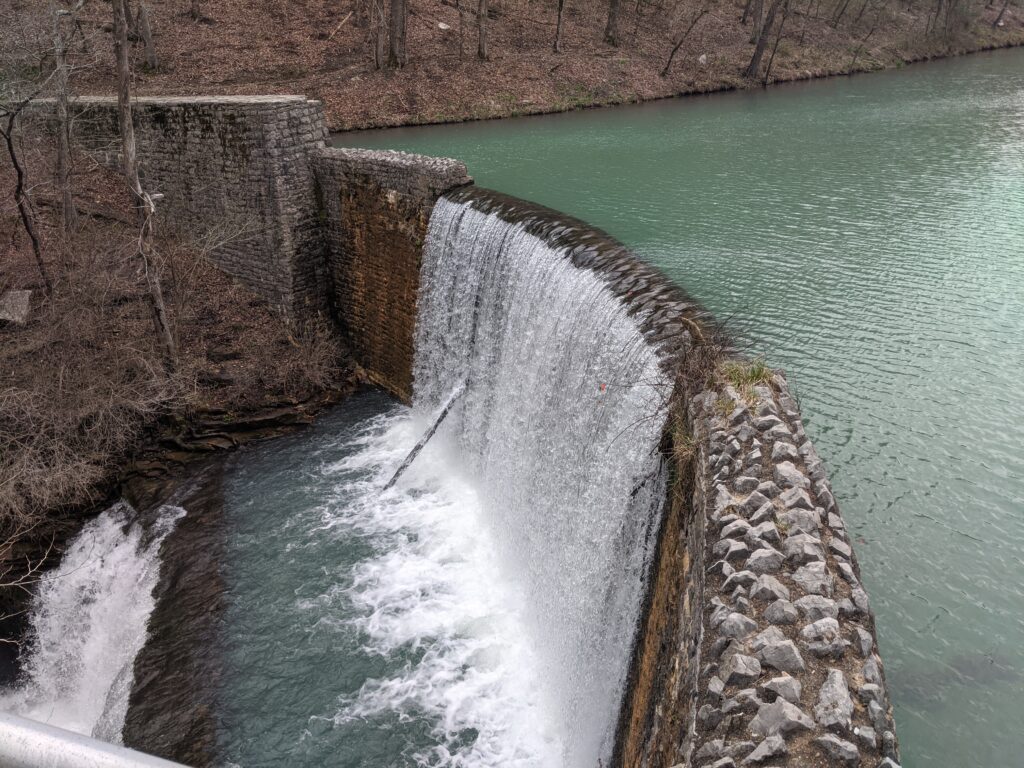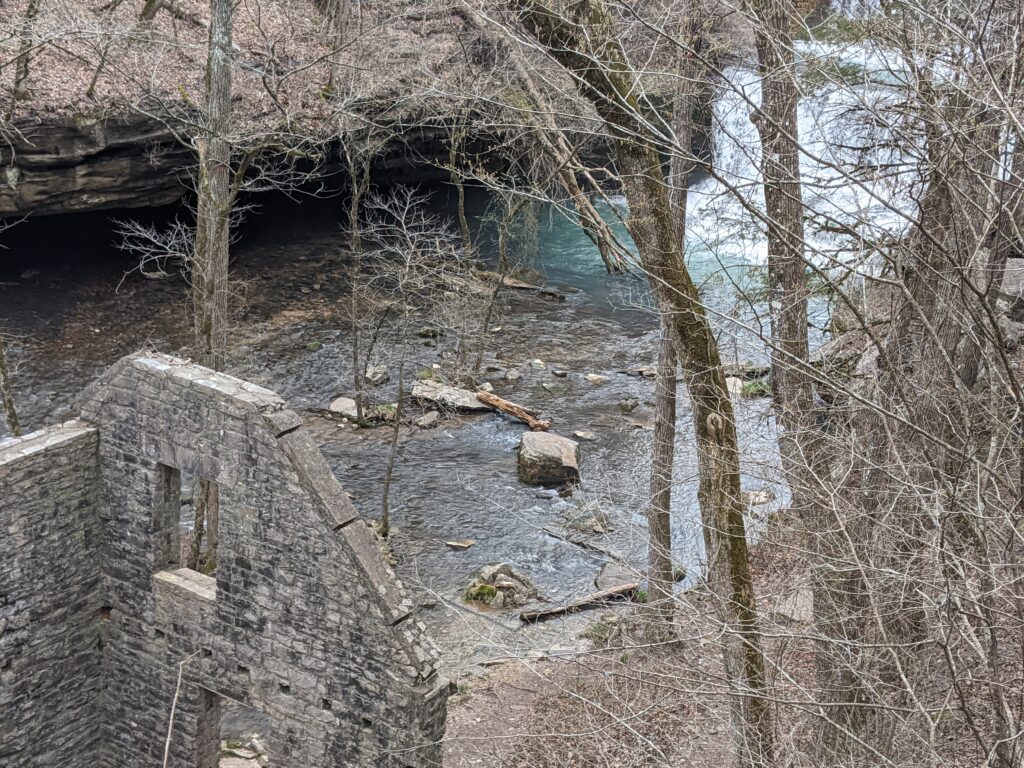 Day 3
We spent the 3rd night at a different spot at the campground about a half mile down stream. We were right on the river in a really great area. Paula found an interesting trail to a place called "Indian Rockhouse". Now we have a place with a similar name in the Shawnee Forest and I figured like it, there would be some sort of cave you could get into and maybe camp out in.
It was a nice hike down a pretty easy trail along a babbling creek. When it came into view through the trees, I could see a large dark hole that gave me some idea that it was bigger than I had figured. IT WAS HUGE! I was overwhelmed walking in. It had a loud roaring stream sound coming from it, but no water in sight.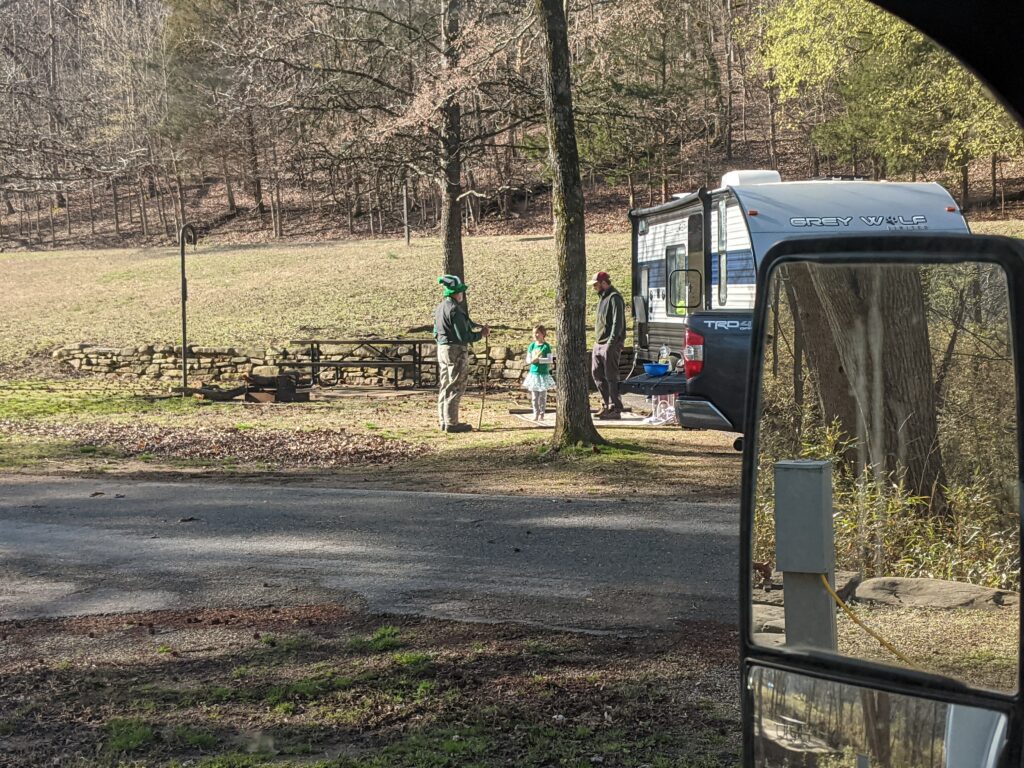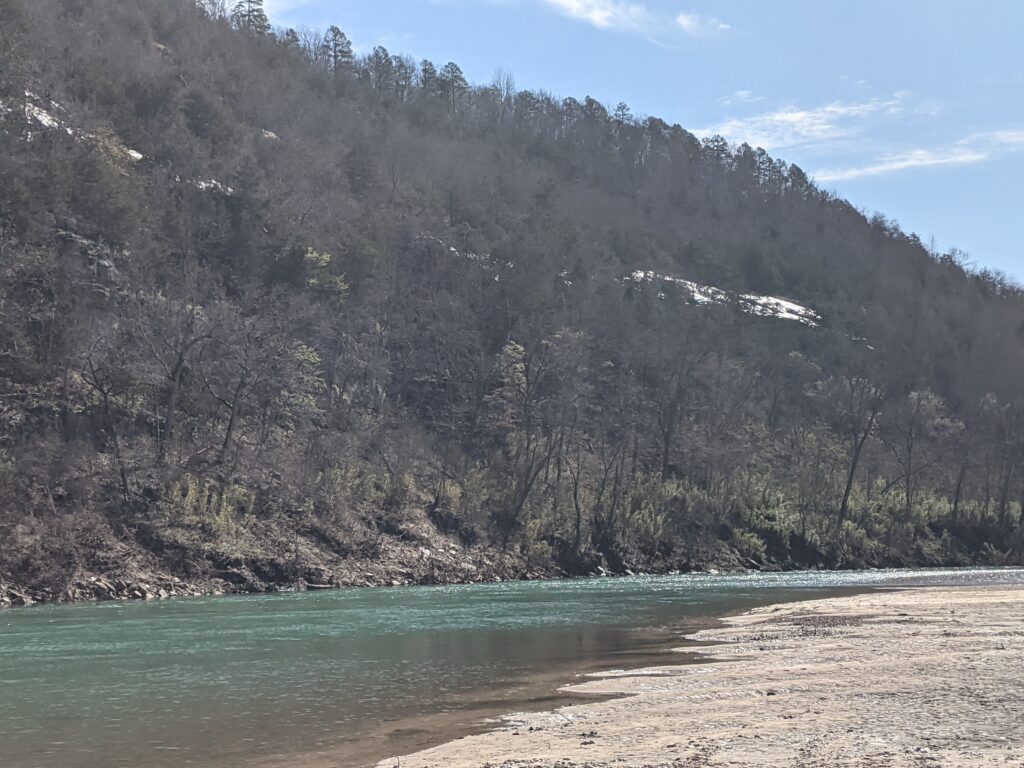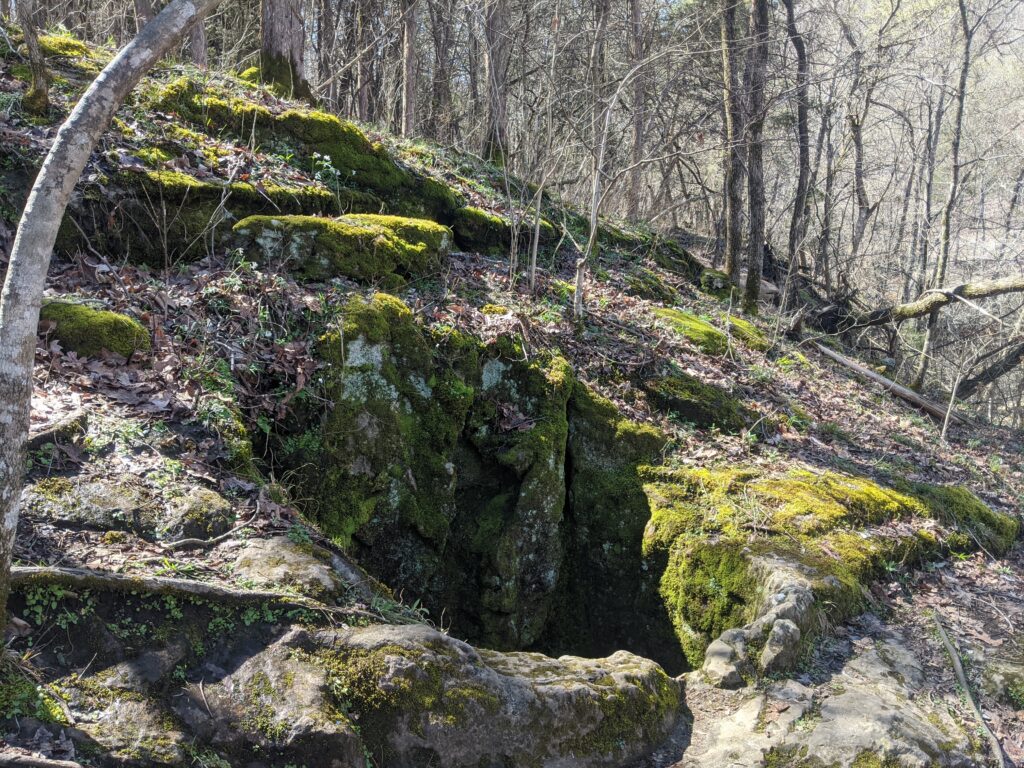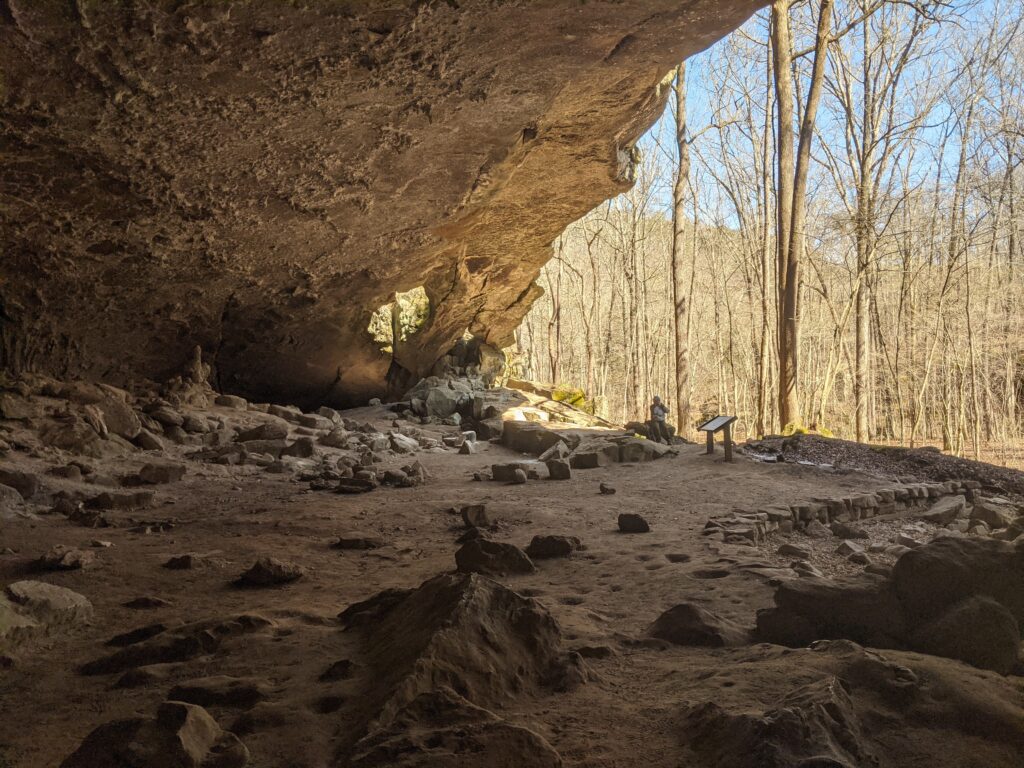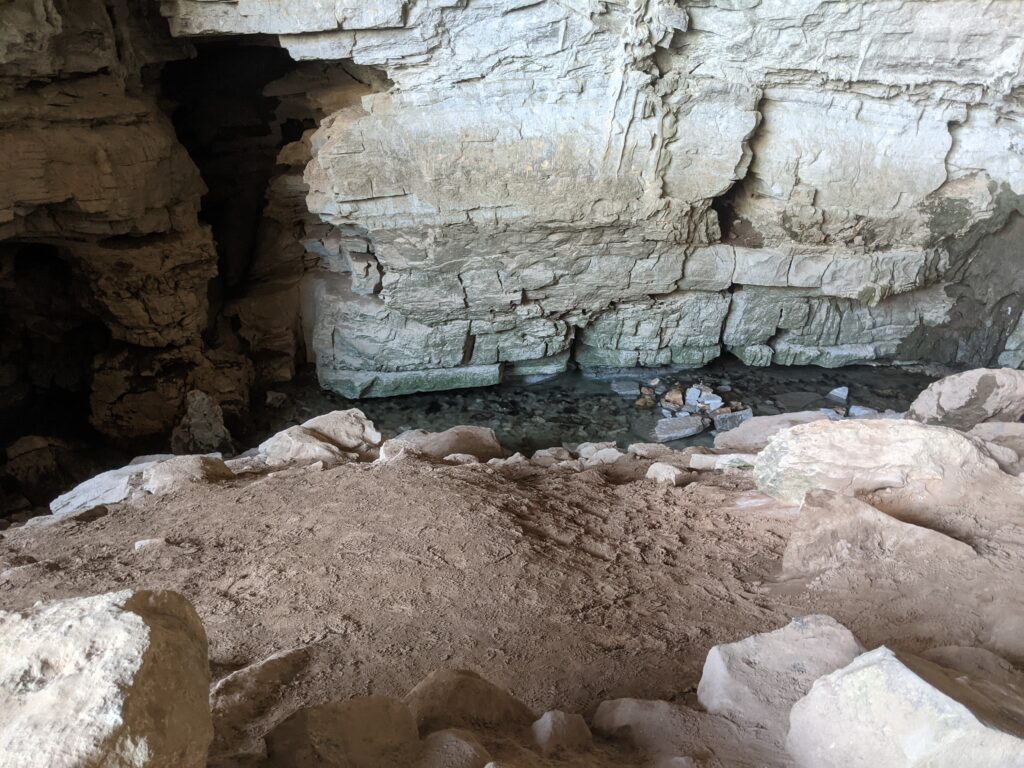 The trip back was actually backtracking the way we came in and this was the last picture here.
Day 4
Today started with an overlook view, then a trip to an abandoned town which wasn't too photogenic, and we left there and walked along a creek on a park where I found my "Handy" Rock. What's a trip without bringing a memento home?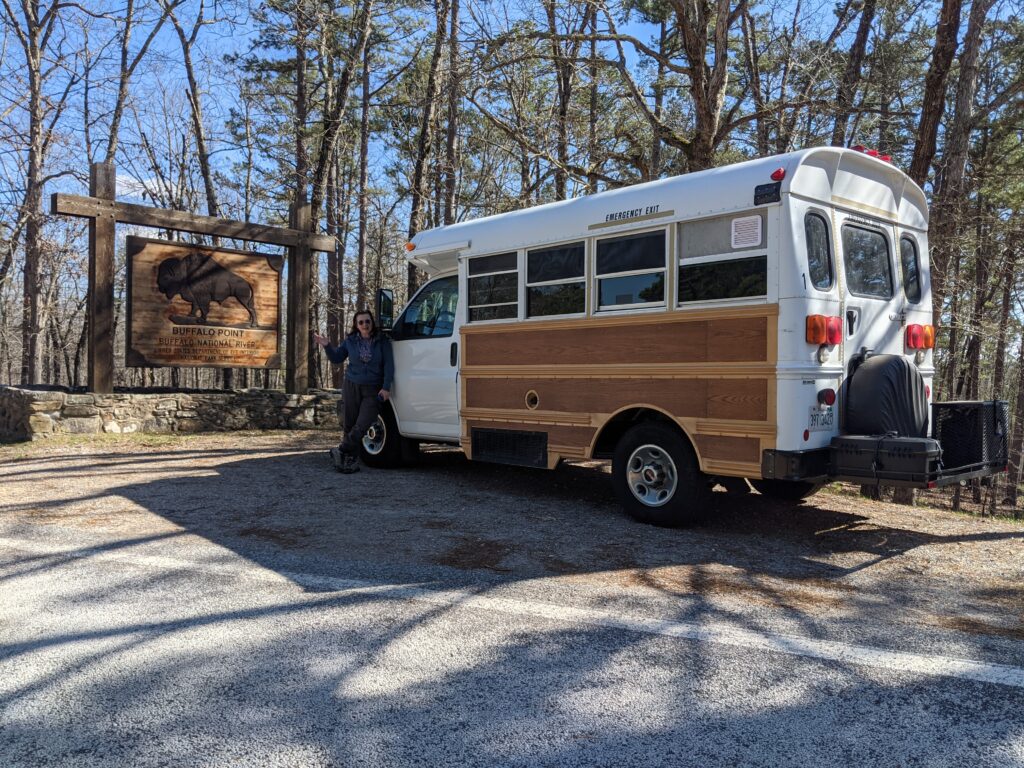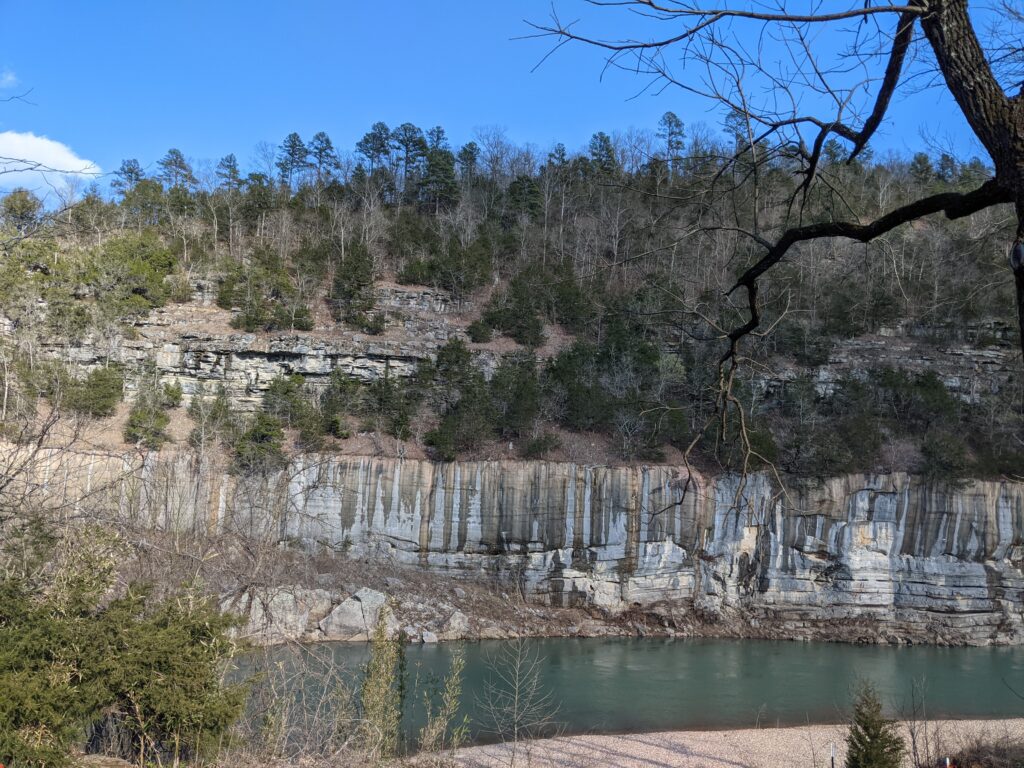 Day 5
We drove to Aux Arc Park in Arkansas. A lot of arks there. We spent a couple of days here too. We went to Big Creek Cave Falls today.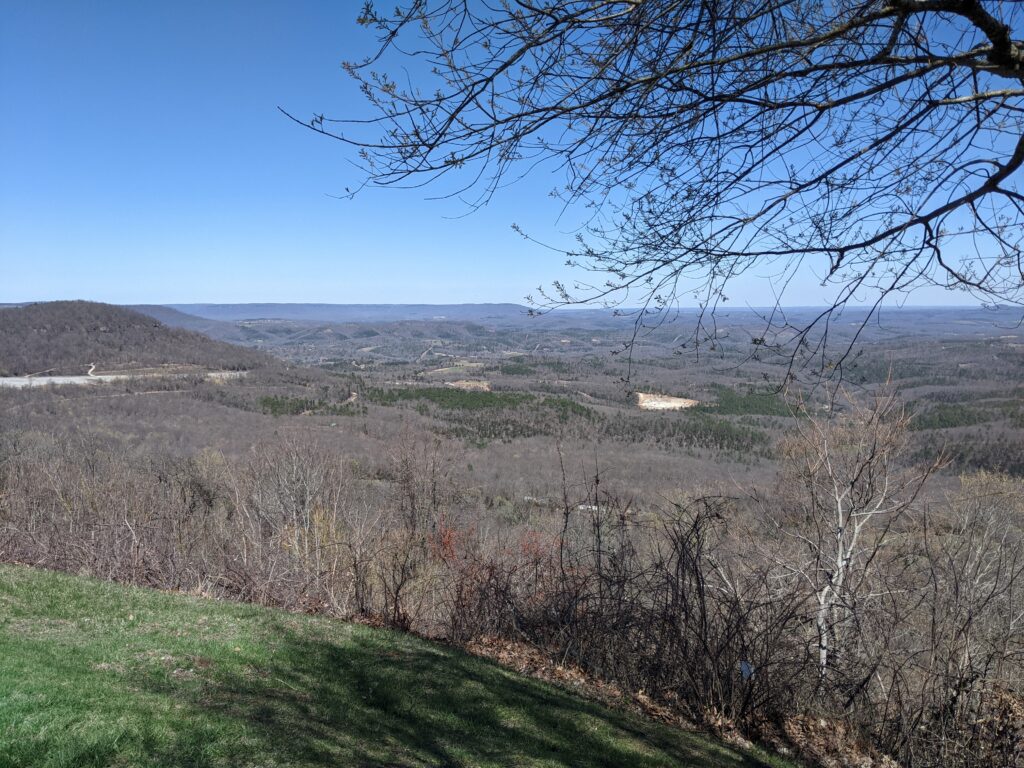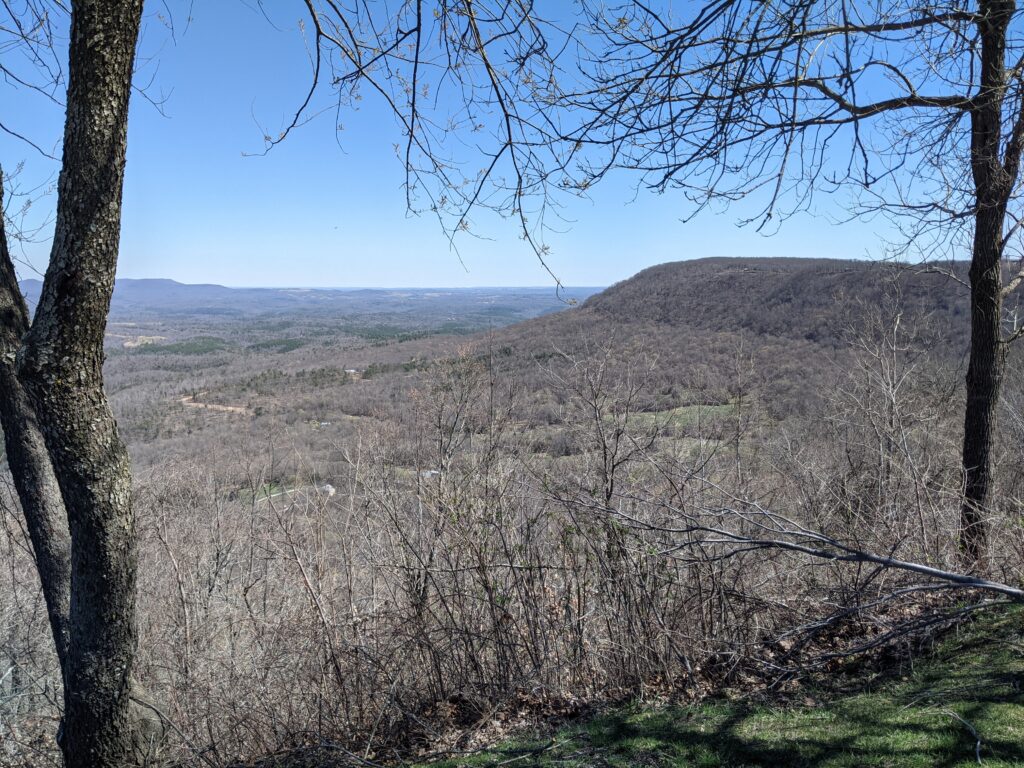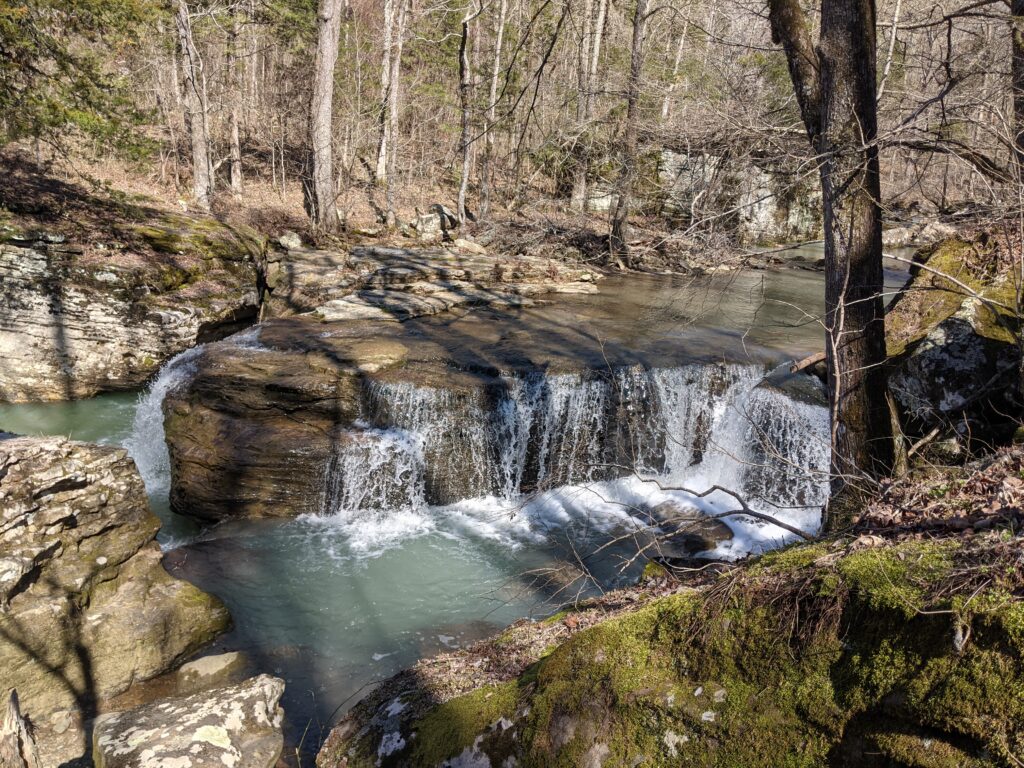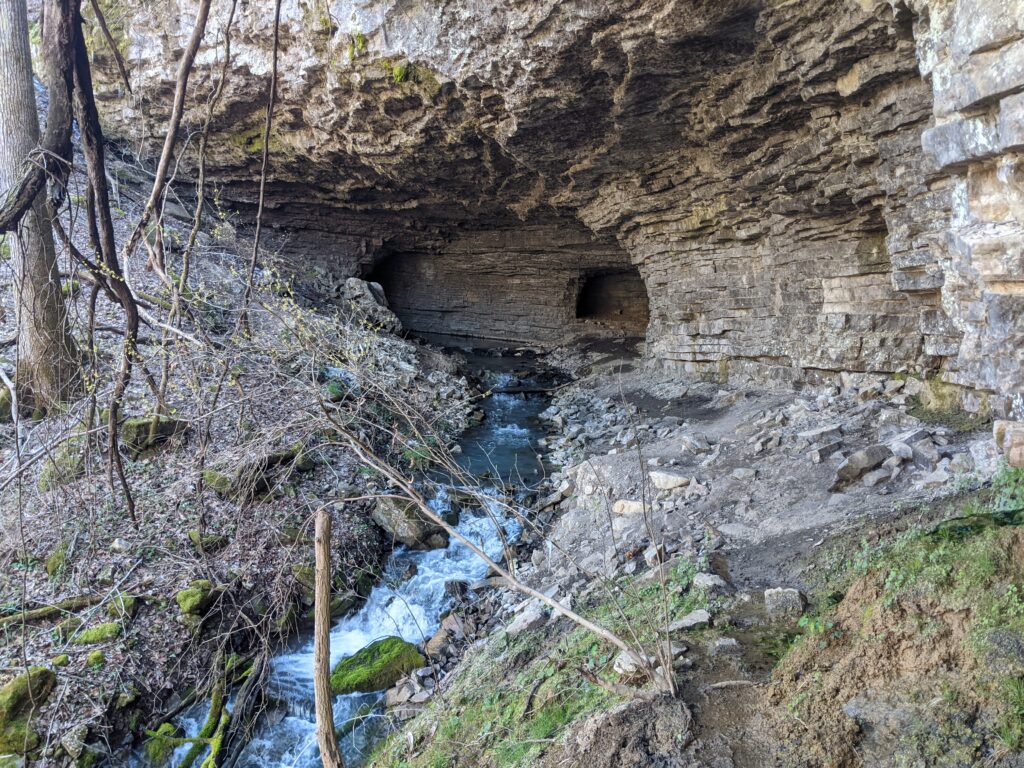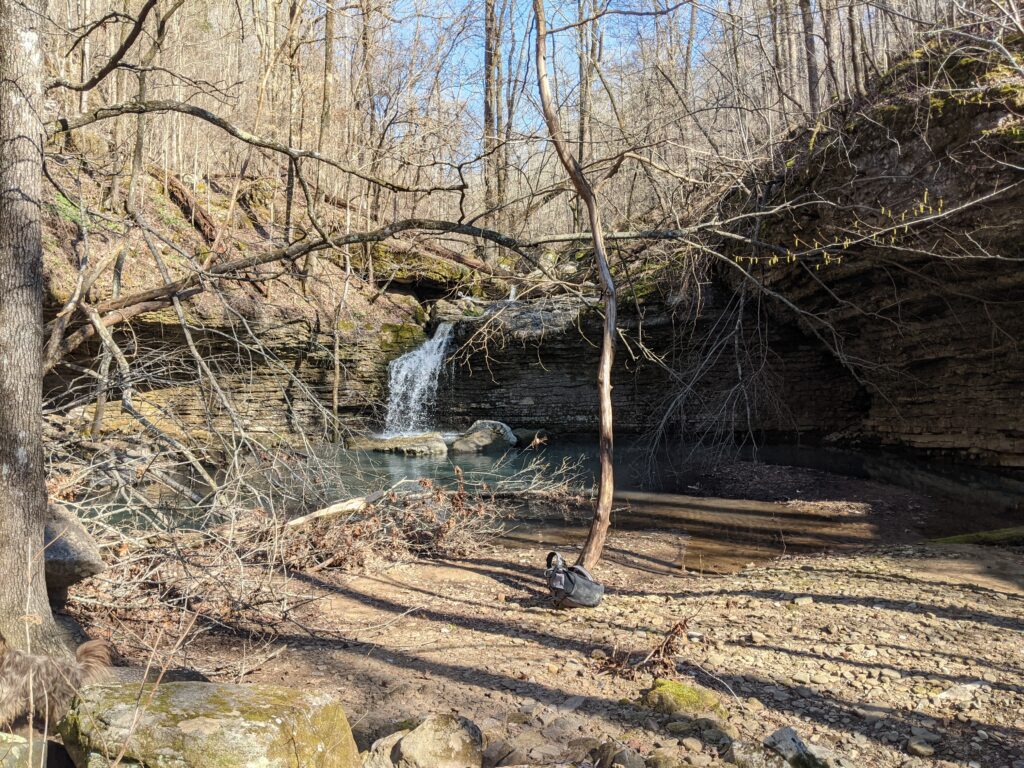 Day 6 Our new campground was great except for one thing. It had the worst bath house of any campground we stated at. There was one toilet and shower room for 1 male, and 1 for a woman. The women's entrance light didn't work. The men's toilet had one of those buttons on the wall to flush it, and you would get a squirt of water because of some bad seal in it. The floor of the whole toilet/Sink/Shower was always wet. A combination of leaks and bad drainage. There was one outlet on the wall by the sink, and it had no cover. The shower was a pushbutton that if you held it down long enough, it would get lukewarm. It was down to freezing these nights and no heater. The second night the women's was out of service. The skoolie shower is at least hot. So we used it.
So the 6th day we went to High Bank Twin Falls on Mulberry river.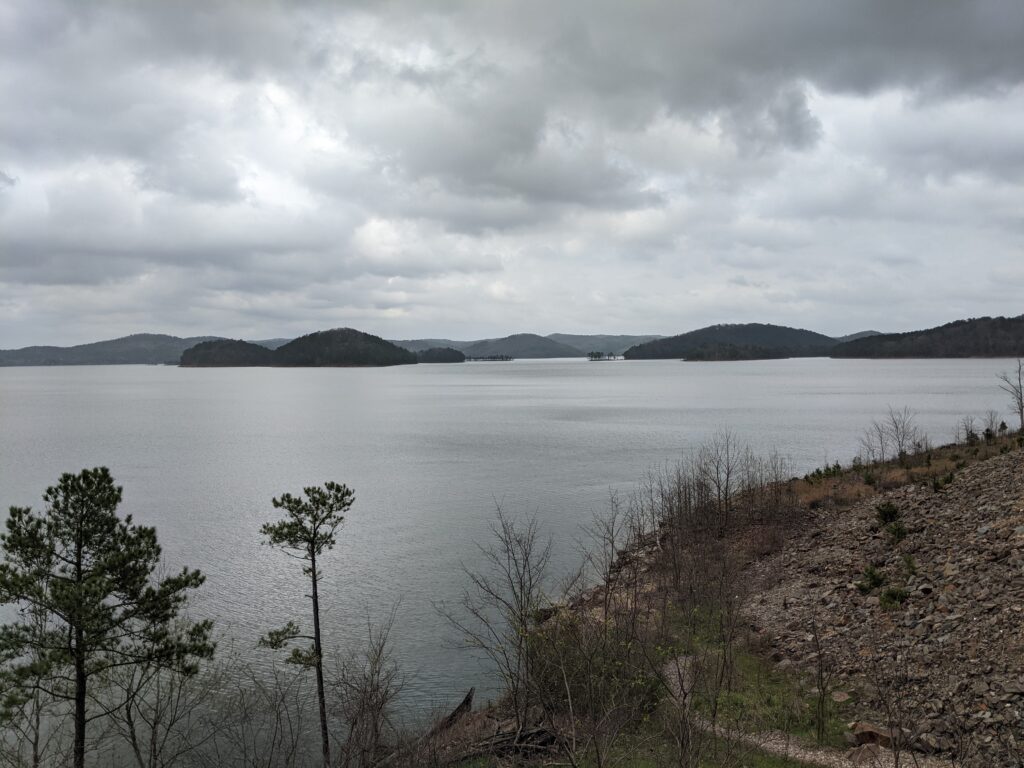 Day 7
Broken Bow.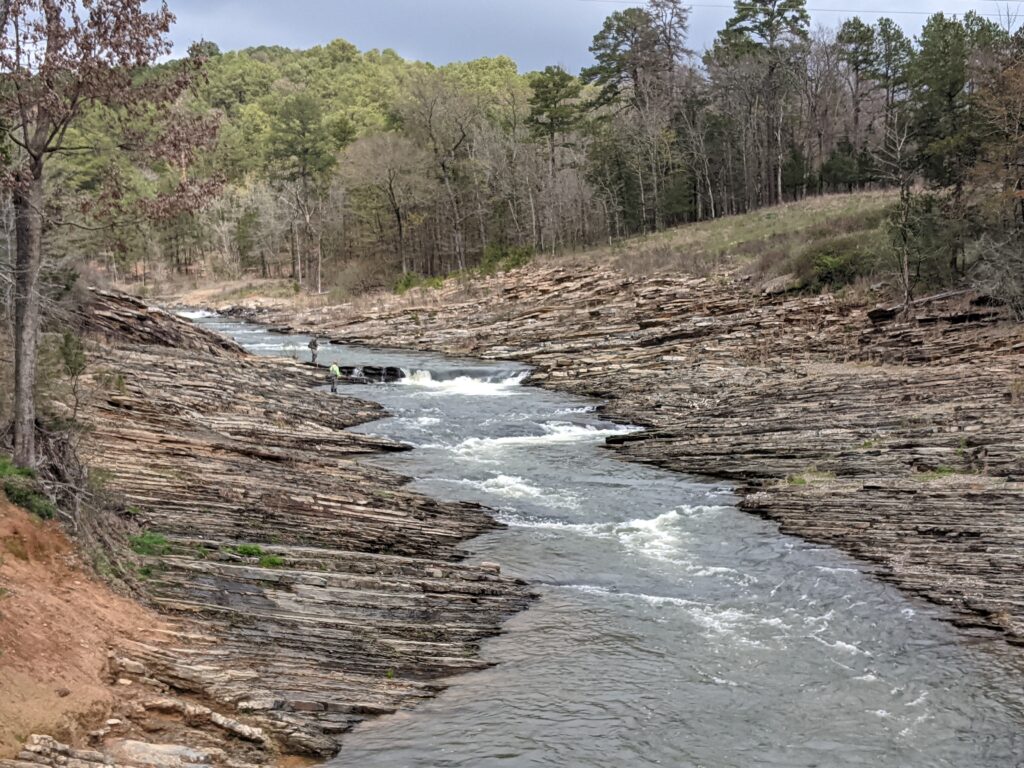 We went to Beaver Lake State park. Nice River and an old dam across it that looked like a waterfall. Nice park for a picnic too!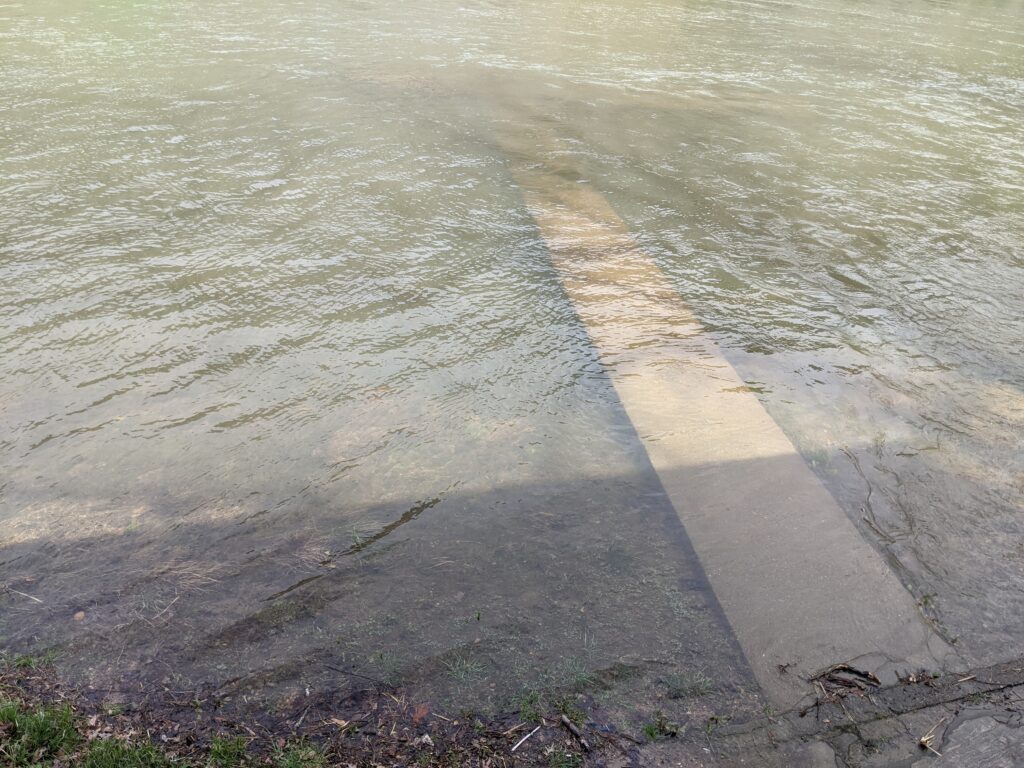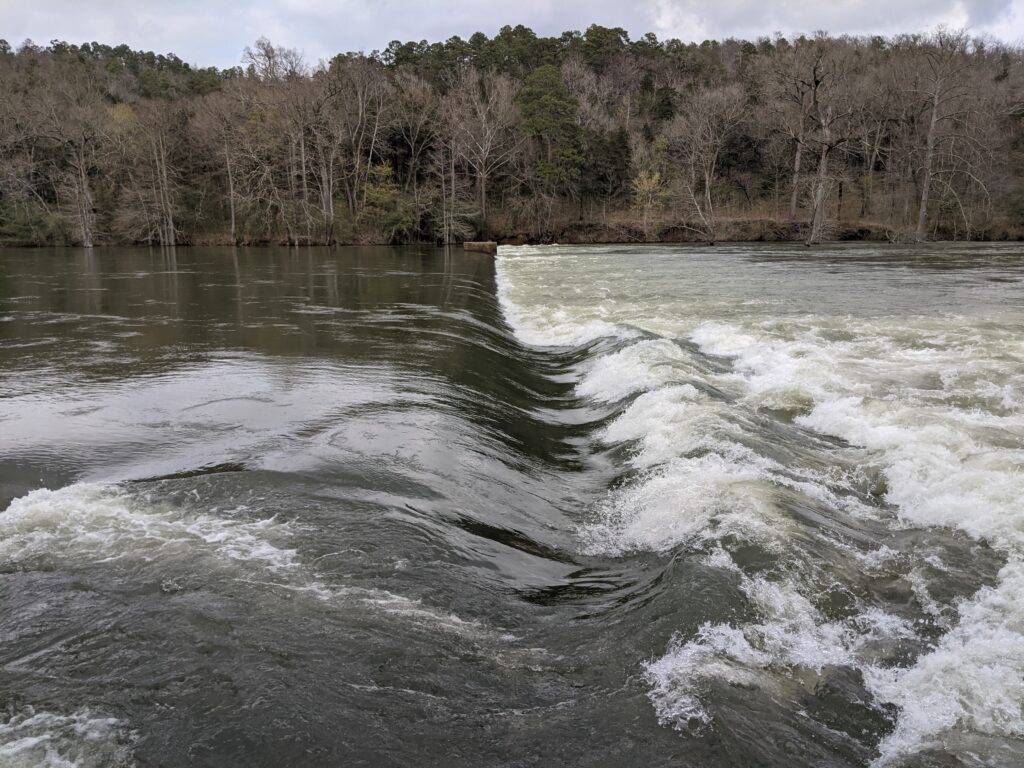 Day 9
Today is the day we took a long mountain road to a waterfall that was well worth it, but dicey. We had long sections of 1 lane 2 way road. A 3ft. drop off on the inside of the mountains for drainage, and a possibly fatal drop off the outside. You could either fall off the mountain or fall over against the mountain. Better stay on the middle of the road.
I had to drive slow because it was bone shaking enough crawling at 10mph. I kept keeping track of places you could pull over in case we met someone. Then we met someone!
Panic time! We had come around a curve and here comes a lady from the other direction. She pulled over on the inside as far as she could leaning at a pretty bad angle on soft gravel. No way I could make it. The only place I could see that might work was a place with a tree and about 2 ft extra on the outside. I got lined up and put my front tire off the road onto the grass there and pulled up to the tree. She managed to pass me though we were both in a not really safe situation. I had to back onto the road because the extra dirt was washed out past the tree. We didn't meet anyone else. Glad it was an off day. I was glad Paula could only see the inside. No pictures. I was busy.
So we got to the falls anyway!
We later went to High Bank Falls.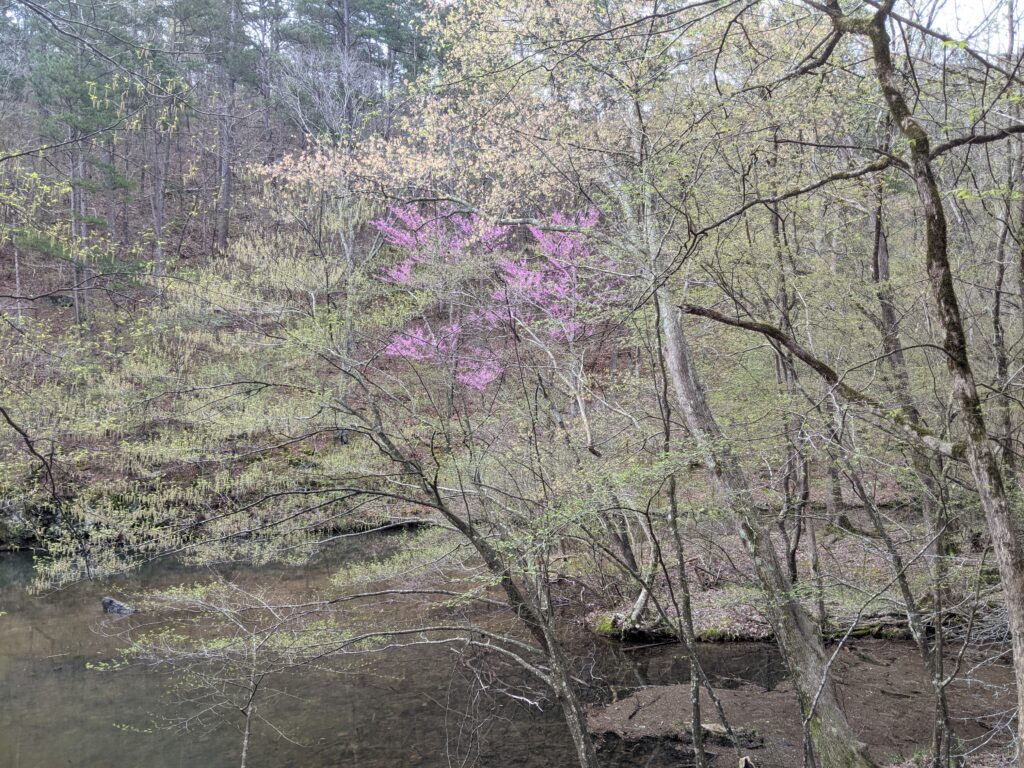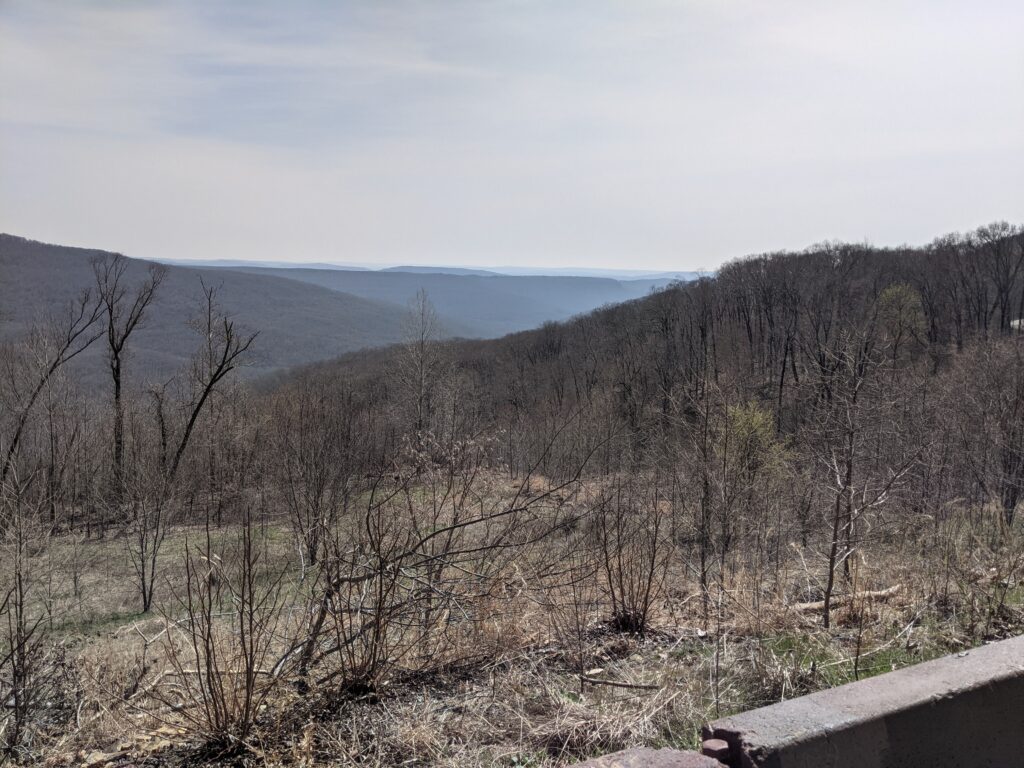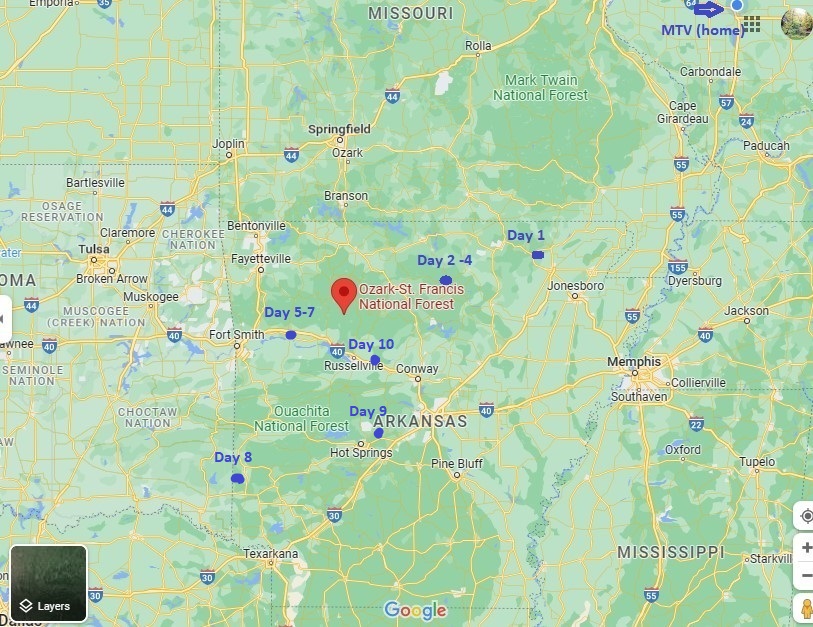 Day 10
On the road again. We went through Hot Springs after walking the uptown in search of Ice Cream. It was evening. Earlier we checked Out of our $17 campsite. It wasn't worth it. It was just a parking lot, no showers. I hated it. I didn't let that bother me sightseeing. I guess staying a couple miles from Little Rock for $17 sounds good. Paula got us a Hotel for the night. We got to use our free points on our Holiday Inn Club Membership and stay for free.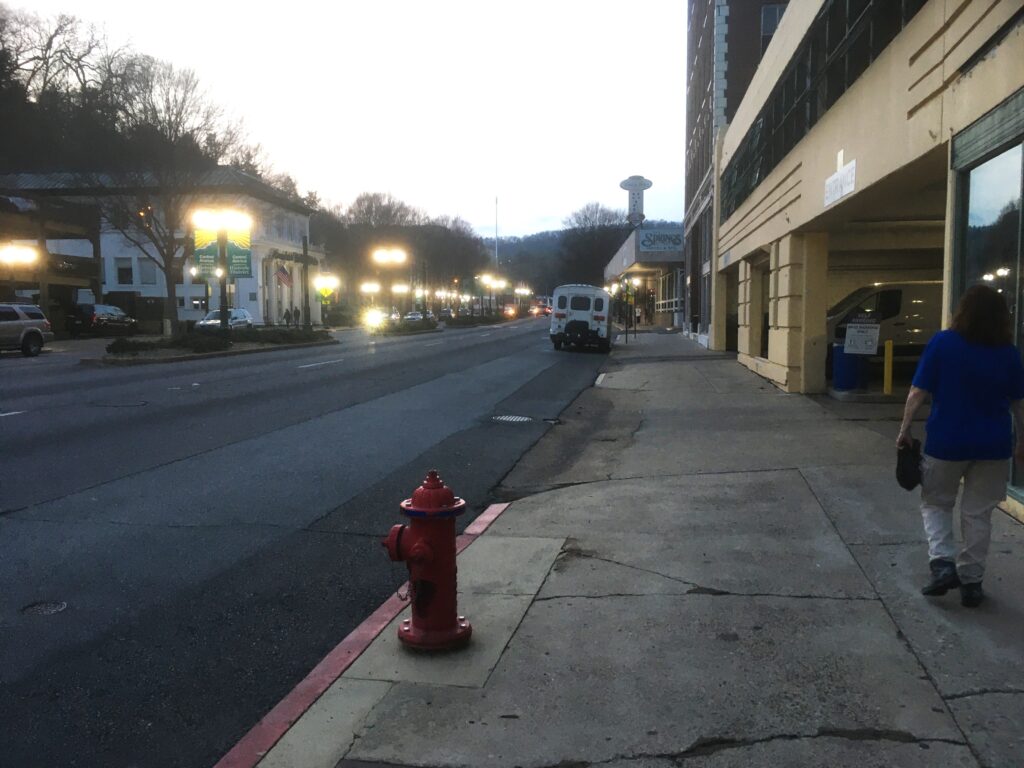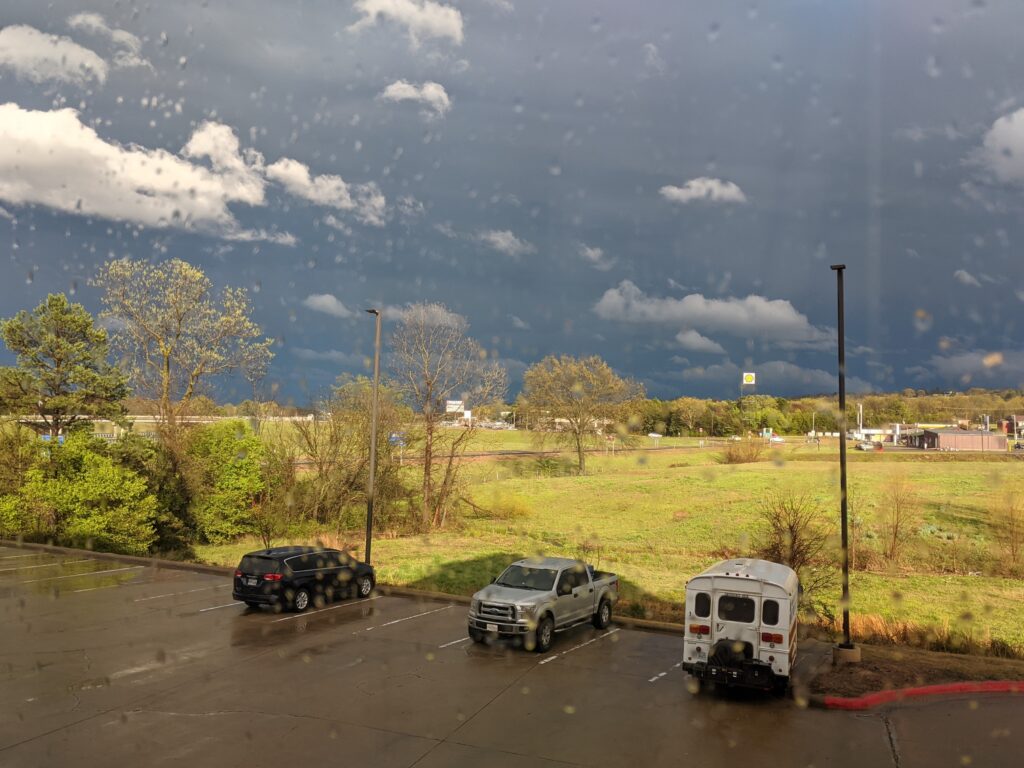 Day 11
Petite Jean State Park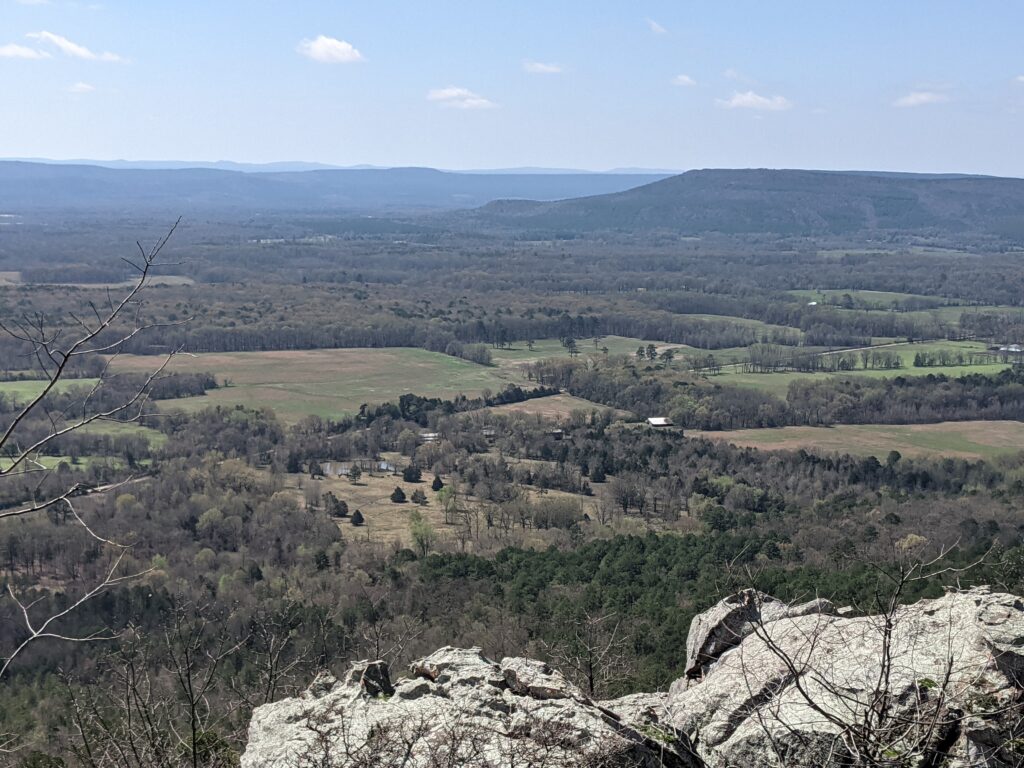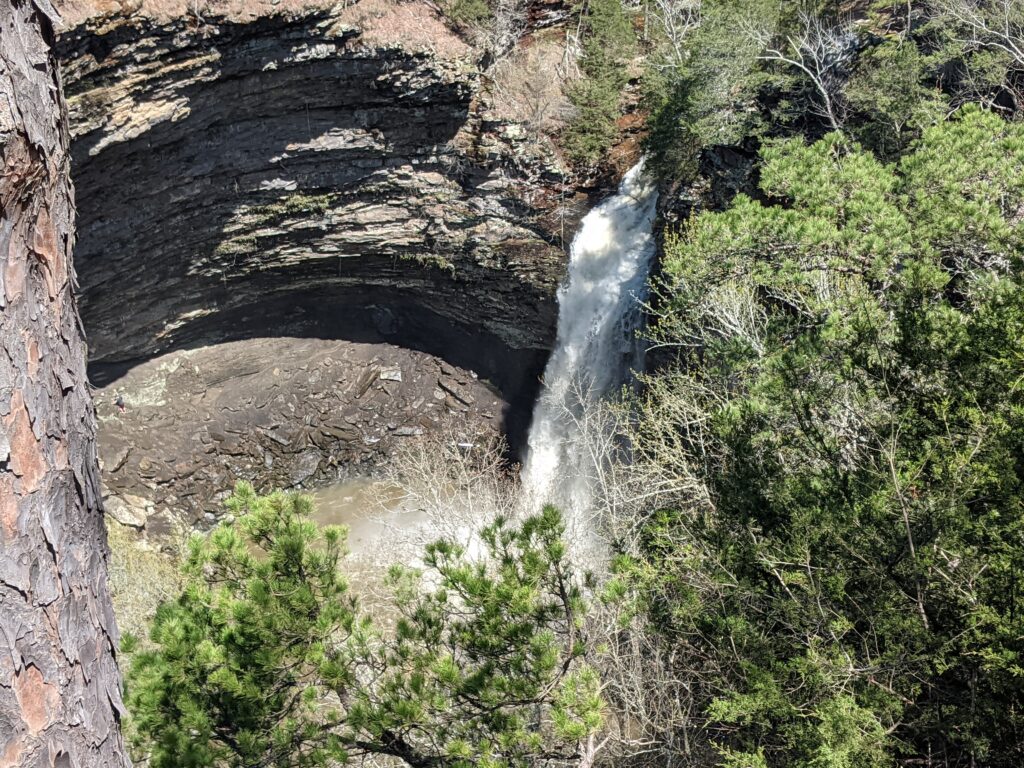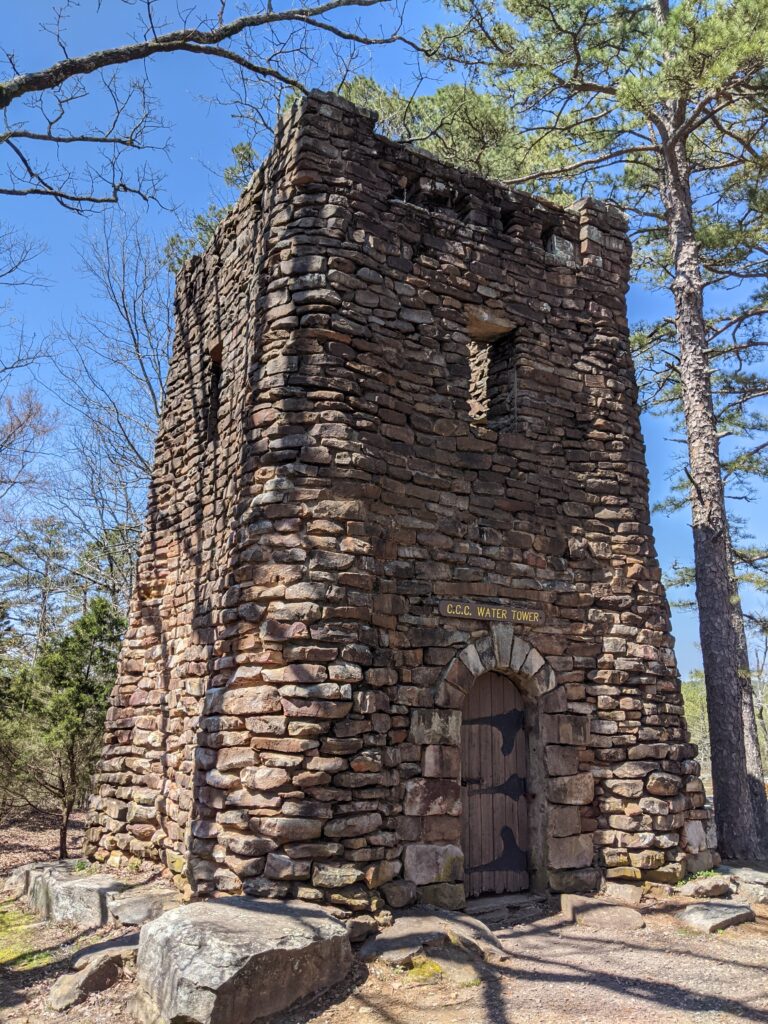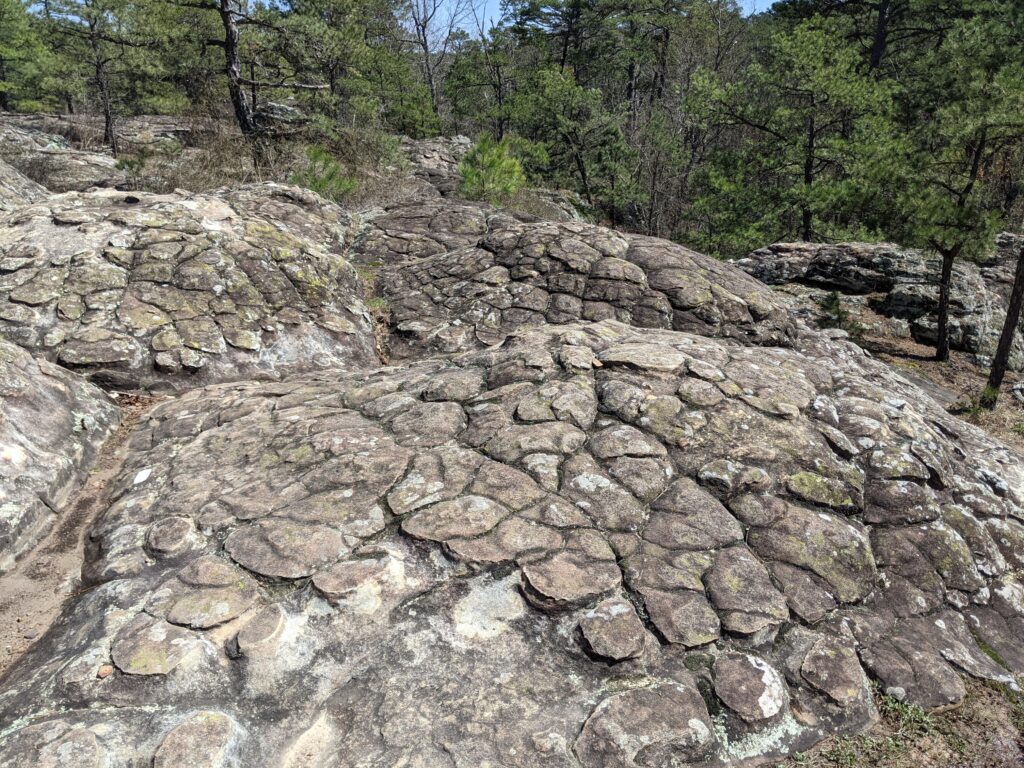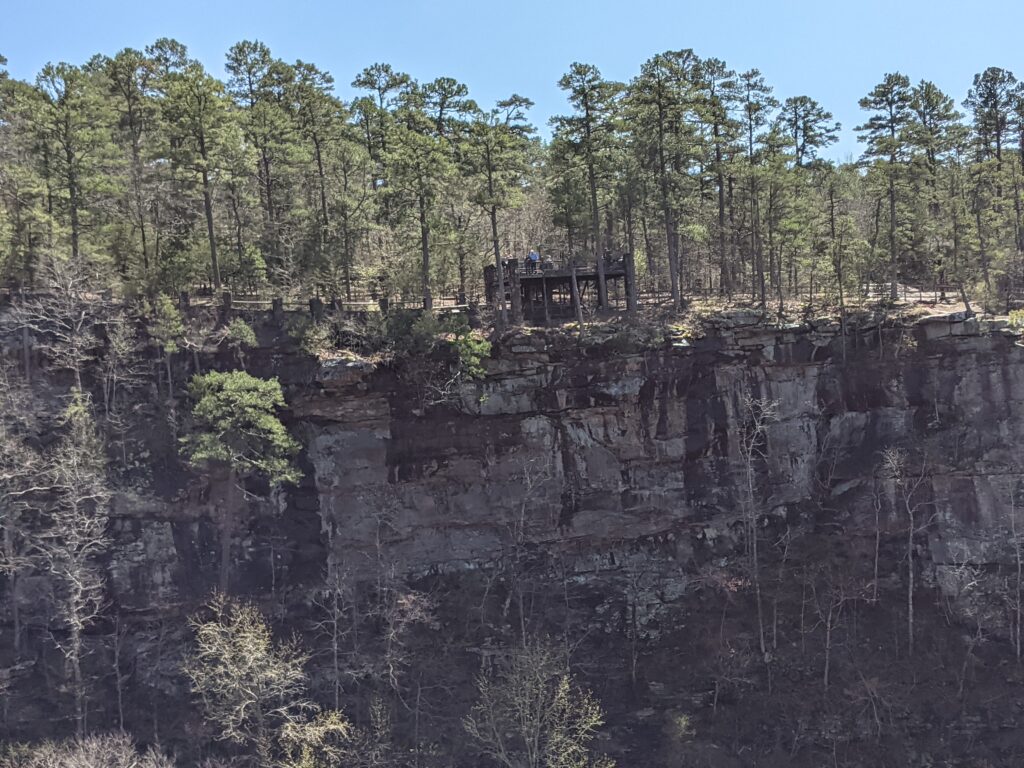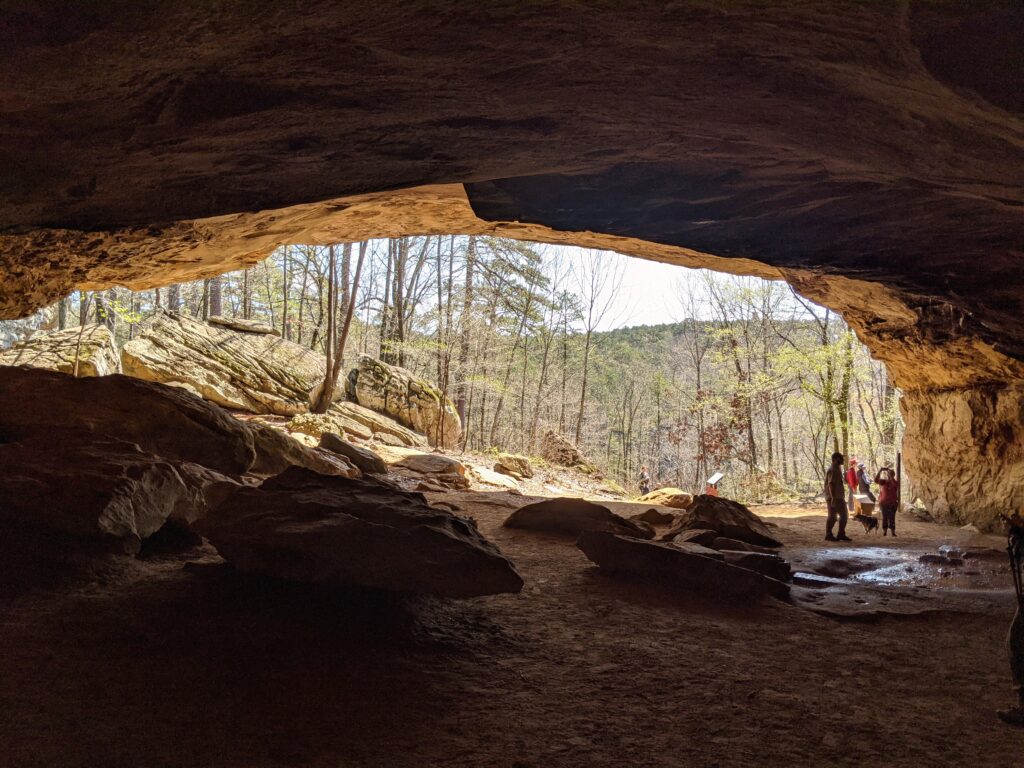 Day 12
Bridal Veil Falls and the previous Bridal Veil falls. There are two on the property. The Taller one was named after the property owner. After the land was sold they changed the name. The other one is just basically called the previous Bridal Veils falls.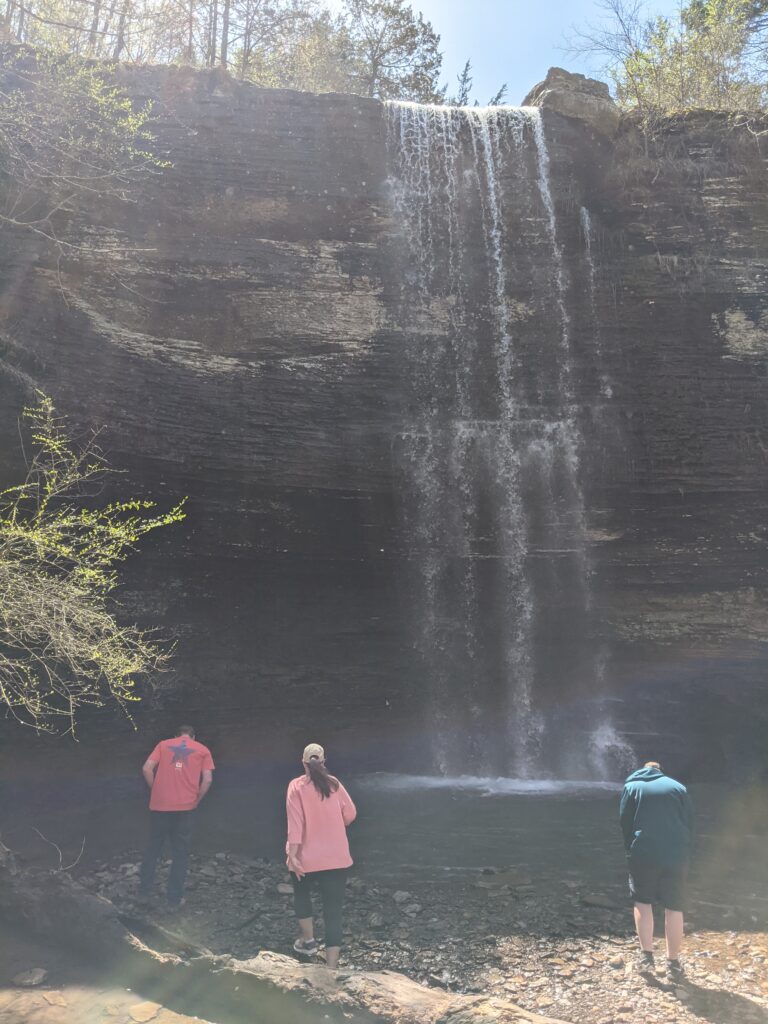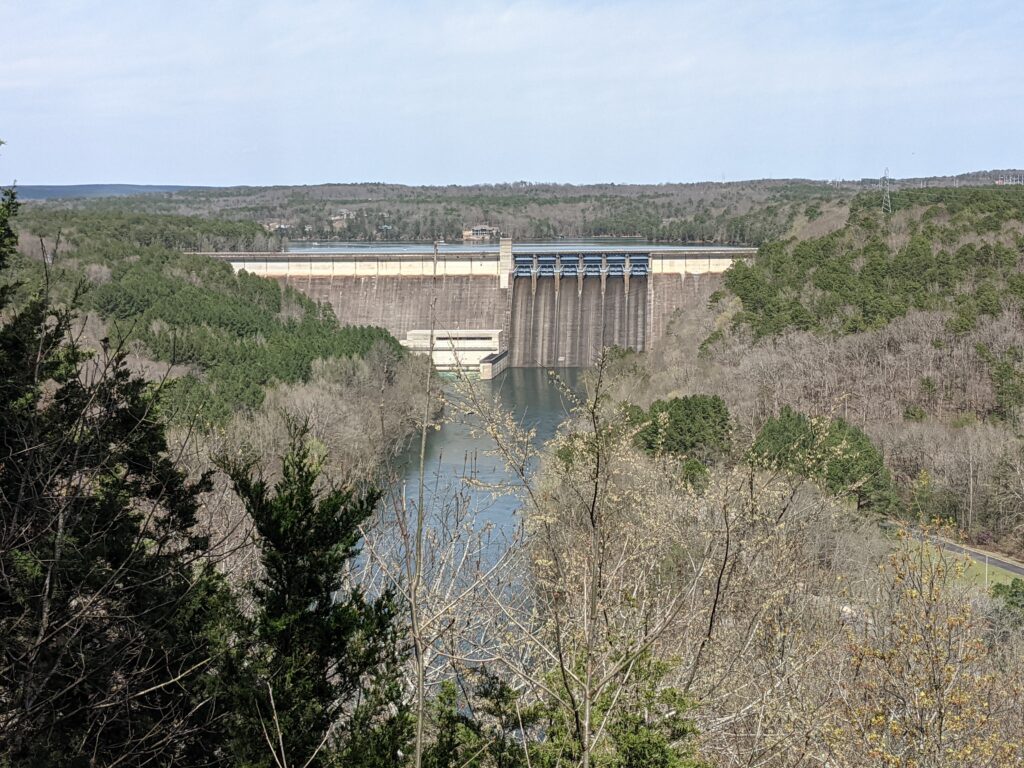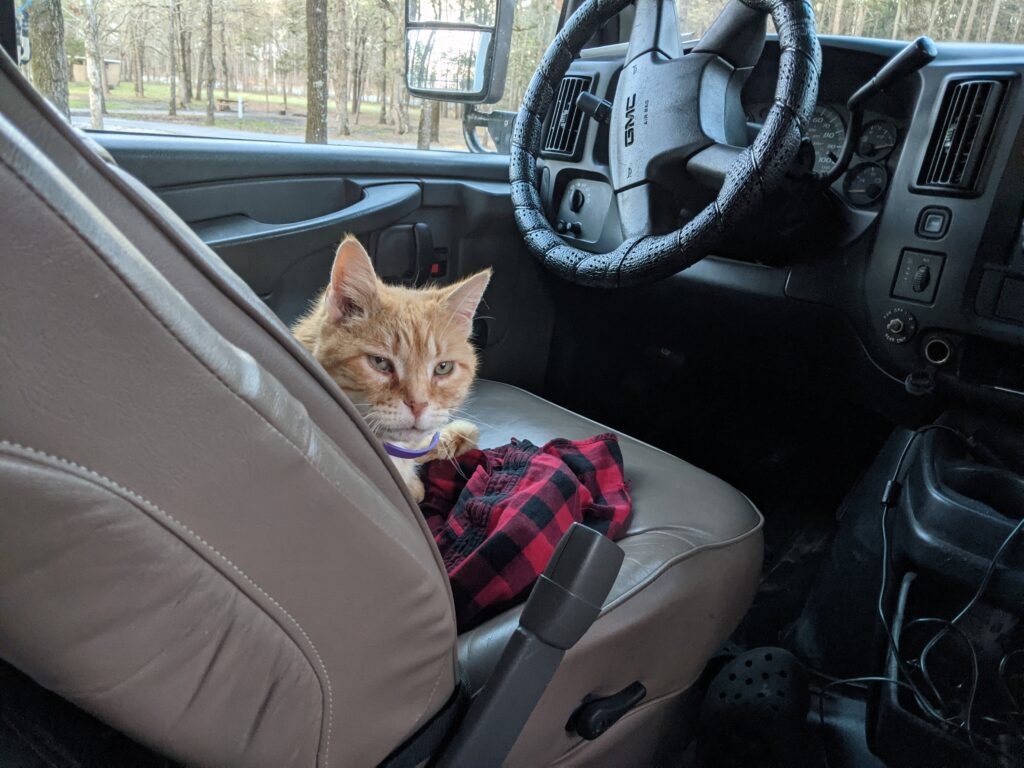 Day 14. Heading home. We stopped by a HUGE Spring on the way home. Mammoth Spring at Mammoth Spring AR.